This article is more than 1 year old
SUSE says tschüss to Ceph-based enterprise storage product – it's Rancher's Longhorn from here on out
Existing customers will continue to receive support, however
SUSE is scrapping its Ceph-based SUSE Enterprise Storage (SES) product. The German Linux shop has not officially announced the move, but we understand it informed some partners and customers of its decision in December.
We were alerted to SES's impending demise via a posting in the Ceph-users lists by Adam Boyhan, dated 16 February: "A few weeks ago I was informed that SUSE is shutting down SES and will no longer be selling it."
A wander over to the SUSE shop showed that SES could not be purchased, so we asked the company to explain.
Thomas Di Giacomo, chief technology & product officer at SUSE, emailed a statement:
SUSE continues to support all existing SUSE Enterprise Storage customers and partners, and the high quality and satisfaction of our support will remain in place. This support includes the option for these customers and partners to expand capacity as required for these deployments.
Our latest version of SUSE Enterprise Storage was released at the end of 2020. SUSE is also capitalising on Longhorn (acquired through Rancher) for appropriate storage deployments.
As new IT requirements evolve, and the world continues to adopt containers, SUSE is working on our future storage solutions while working closely with our key partners, customers and the open source community.
SUSE acquired Rancher Labs, a Kubernetes management software vendor, in December 2020 – so about the same time it decided to scrap SES. Rancher's Longhorn provides persistent storage to containers.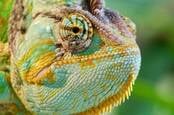 Christmas comes early for chameleons: SUSE feels jolly after closing Rancher deal
READ MORE
Ceph is an open-source distributed object storage platform which supports file and block access protocols and object access. The first stable release was in July 2012 and the platform has steadily developed since then. Red Hat is the most prominent supporter of Ceph, which is part of the company's OpenShift Container Storage platform. The company bought Inktank, the main developer of Ceph, in 2014.
SUSE developed SES as an extension for its Linux distribution, SUSE Linux Enterprise Server (SLES). The company released SES in February 2015. SES 6 was released in summer 2019 and this added a graphical user interface. A version 7 was planned at that time. This would deploy Ceph in containers, supply storage to containers, and use the Rook orchestrator for Kubernetes.
SUSE was acquired from MicroFocus by EQT, a Swedish private equity firm, in 2018. EQT aims to IPO SUSE and is targeting a $6bn valuation, according to various financial news reports. ®