This article is more than 1 year old
Tencent nods to custom AMD servers as contributor to FY20 revenue and profit boom even as gamers and vid chats mashed its servers
Execs say they're unworried by new Chinese regs on monopolies and online loans
Chinese web giant Tencent has told investors it's ready for China's new antitrust and lending regulations, as it announced FY 2020 annual revenue of US$73.9bn in revenue, a 28 percent year-on-year jump.
Online games were responsible for 29 percent of revenue, the same amount as FinTech and business services. The full figures are here [PDF].
And it was those latter businesses that attracted most attention from investment analysts in the Q&A section of the company's earnings call, because China has set new rules for online lenders, wile antitrust probes have targeted Chinese web giants' resulted in sprawling product portfolios.
Tencent execs acknowledged the clampdown on loans, but said as its WeBank brand is a full bank it was already compliant with the new laws.
On antitrust concerns, one analyst asked if Tencent could contemplate rival Alibaba being allowed into its Taobao deals platform, an inclusion that has been the subject of recent media speculation.
Tencent executive director and president Martin Lau responded by saying the company's "general principle is that we are open in nature.:
"We have an open platform which encourage organic cooperation with other platforms. But at the same time, as a platform manager, we actually need to look after the user experience, as well as protect our users' privacy with a lot of focus, right?"
"And finally, I think the relationship with any large company has to be mutually constructive. So, I think these are sort of the principles that we adhere to when we look at these relationships on the industry end."
But he would not say if Tencent and Alibaba will play nice.
The pace of Tencent's acquisitions, another antitrust concern, was also discussed.
"So, for better or worse, the pace of our investing activity has been relatively unusually intense during the past six months," acknowledged Chief Strategy Officer James Mitchell. "And that's not because of regulation, that's just because COVID has provided a glimpse of the future, particularly for industries like games, education, healthcare and then, especially enterprise software-as-a-service."
"And we've really utilized that glimpse into the future to step up our support for independent companies in those spaces, particularly enterprise software-as-a-service in China."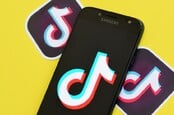 ByteDance sues Tencent over lack of link love on its messaging services
READ MORE
Tencent's star SaaS is Tencent Meeting, a Zoom-like service that has quickly won over 100 million users and become China's top tool in the category.
Tencent Meeting, and the company's vast array of online games, tested its infrastructure. Execs called out its AMD-EPYC-powered "Star Lake" custom servers and T-Block modular data centers as as having performed so well that they helped to control costs even as demand soared.
"We believe our low-cost operating and financial results testify to our focus on user value and technology innovation," said CEO, chairman and co-founder Pony Ma, who also detailed the company's extraordinary scale.
Monthly average users of Tencent's Weixin and WeChat apps rose to 1.23 billion, while the QQ.com portal and messaging service is used by 595m people a month.
Profit for the full year was $19.5bn, up 30 percent year on year. ®