This article is more than 1 year old
Ticker tape and a binary message: Bank of England's new Alan Turing £50 must be the nerdiest banknote ever
Tribute to wartime computer boffin hits circulation on 23 June
Two years on from its initial announcement, the Bank of England has unveiled the design of the Alan Turing £50 note.
Due to hit circulation on 23 June, the design replaces the relatively short-lived incarnation featuring Matthew Boulton and James Watt. Instead, the update will show the scientist Alan Turing and the Automatic Computing Engine (ACE) he developed.
As the note of choice for shady deals (or so we're told) and the thing occasionally passed over just before a grandparent wheezes their last, we're sure a few readers have a wad of "bullseyes" stashed away behind the bookcase of dusty .NET tomes.
The future for the notes is looking equally iffy: last year the Bank of England reported that long-term trends for the folding stuff had accelerated as cash-based transactions plummeted even as demand for notes grew (the so-called "paradox of banknotes").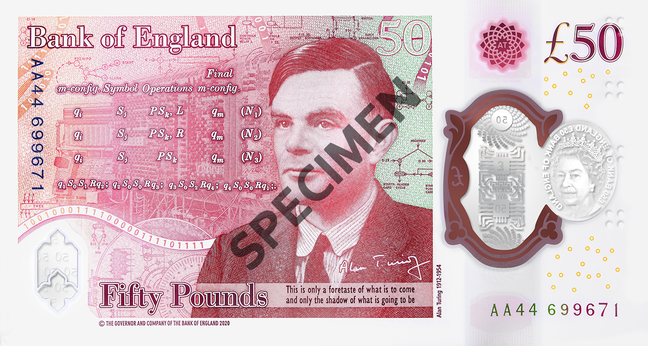 Click to enlarge
As for the new note, Turing's face will adorn a polymer version, which replaces the familiar paper of old. Noting Turing's contributions to codebreaking as well as to the fields of mathematics and computer science, Governor Andrew Bailey said: "By placing him on our new polymer £50 banknote, we are celebrating his achievements, and the values he symbolises."
Bailey also noted of Turing: "He was also gay, and was treated appallingly as a result."
Indeed he was. Despite his wartime efforts, Turing was persecuted by the state for his homosexuality and was convicted of gross indecency in 1952. He died in 1954 from cyanide poisoning and an inquest determined his death as suicide.
He was eventually granted a posthumous pardon in 2013 following an apology in 2009 from then British Prime Minister Gordon Brown.
Also celebrating Turing's imminent arrival on the note is UK agency GCHQ, which has created a set of puzzles that produce 11 words or names to be tapped into the agency's Enigma machine simulator. ®