This article is more than 1 year old
Salesforce to face trial after software used by Backpage 'to track sex traffickers, pimps, johns on social media'
Cloud giant manages to dismiss only part of lawsuit brought against it
Salesforce should face trial after its software was allegedly used by Backpage.com to track sex traffickers, pimps, and their johns online, a judge has ruled.
The SaaS CRM giant was accused of a whole host of wrongdoing in a civil lawsuit [PDF] filed last year in southern Texas. Insisting the allegations were unfounded, Salesforce filed to have the entire case against it dismissed.
While allowing some facets of the case to go ahead, federal district Judge Andrew Hanen this week agreed to dismiss the lawsuit's claims of negligence, gross negligence, and civil conspiracy.
That leaves allegations that Salesforce broke state and federal laws on sex trafficking having supplied its tools and services to Backpage.com even after law enforcement publicly called out the dot-com for its seedy operations. The judge said Salesforce was, in this case, not necessarily shielded by Section 230 of America's Communications Decency Act.
Backpage.com was shut down in 2018 after it was seized by the US Department of Justice. Its CEO, Carl Ferrer, admitted charges including conspiracy to facilitate prostitution and money laundering. His classified ads website was, simply put, a nexus of child sex trafficking in America.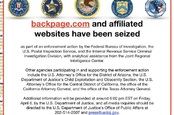 Humanitarian champ or sex-trafficking profiteer? Fresh sueball argues Salesforce is the latter
READ MORE
Judge Hanen's 11-page order [PDF] on Monday gave an overview of the civil lawsuit, brought in April by anonymous plaintiffs, who said they were trafficked via Backpage.com using Salesforce's technology. They claimed Salesforce's software was used to "actively obtain and monitor data and additional information related to pimps and sex traffickers that were using Backpage."
Since it began supplying software to Backpage.com in 2013, Salesforce knowingly assisted and supported sex trafficking, the plaintiffs continued.
Specifically, the cloud-based software was used by Backpage.com to gather and manage information from traffickers and pimps' social media activity, including their "likes and dislikes and what they were saying and sharing about Backpage and its competitors," it was claimed. This intelligence would have been used by the classified ads site to tune and improve its business.
It was further claimed Salesforce's software was used to develop "an infrastructure for a trafficker and pimp database as well as tracking and collecting trafficker and john data across multiple platforms including phone, email, websites and social media." Salesforce also provided payment processing and data analyses which resulted in targeted email campaigns for Backpage.com "to advertise and promote illegal prostitution," according to the plaintiffs.
In their court paperwork, the young women argued that "any reasonable prudent examination of Backpage's business operations or a simple google search [sic] would have indicated Backpage was not a general online marketplace but was actually the predominant force in online sex trafficking."
From 2015, Salesforce's relationship with Backpage survived intense law enforcement scrutiny, lawsuits, investigations, and even the arrest of Ferrer for "conspiracy to commit pimping" by Kamala Harris, then California Attorney General and now vice president of the United States of America.
Salesforce denied any wrongdoing, the judge noted, "especially that it had any knowledge that Backpage was planning to incorporate the use of its operational support into a sex-trafficking venture."
A spokesperson for the cloud giant was not available for comment. ®