This article is more than 1 year old
Bad news for automakers: That fire at the Renesas chip plant was worse than expected
Estimate of damaged fab equipment revised upwards by 54%
Japanese automotive chipmaker Renesas has said the blaze at its factory in Japan earlier this month may be worse than expected, with 17 fabrication machines affected rather than the 11 originally indicated.
The news is another blow for the semiconductor outfit, which is still recovering from the March 19 fire that shut down its Naka facility's N3 Building, which produces 300mm wafer sizes at the campus, about 100km northeast of Tokyo.
Although the revised figure - given to business paper Nikkei earlier today by a company rep - still represented a small proportion in the manufacturing capacity in the N3 building (the original figure, 11 machines, represented just 2 per cent of manufacturing equipment), it nonetheless served as an indication of the ferocity of the fire, which also damaged clean water and air purification infrastructure.
Although lithography equipment doesn't come cheap, it's the latter that will prove the biggest hurdle to resume operations, and Renesas has said it will take at least a month for the Naka N3 building to resume operations. Replacing the damaged equipment has been predicted to take longer still.
Renesas holds a 30 per cent share of the automotive semiconductor market, with the vast proportion of the Naka N3 facility's output going to carmakers.
The wider carmaker industry has faced a semiconductor shortage in recent months, caused by a perfect storm of inventory mismanagement and facility shutdowns in Texas and Japan, which were themselves a consequence of freak weather events and untimely fires.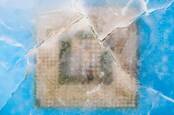 Texas blacks out, freezes, and even stops sending juice to semiconductor plants. During a global silicon shortage
READ MORE
In the early months of the pandemic, the wider automaker sector cut back on semiconductor orders, as it expected a long-term decline in demand from consumers and corporate clients, such as car-hire companies that previously placed large orders and routinely refreshed their fleets.
In reality, appetite recovered faster than expected, as economic conditions improved and people remained wary of taking public transport.
As the automotive industry relies heavily on just-in-time supply chain practices, it lacked a backlog of chips to ramp up production. Complicating matters, chipmakers had their own issues. Electricity blackouts following storms in Texas forced Dutch semi-producer NXP to temporarily suspend production. Renesas had a fire. For nearly a week, the Suez Canal, which provides a gateway between chipmakers in Asia and car makers in Europe, was blocked by the Ever Given.
Additional uncertainty comes from Taiwan, which is facing a major drought. As previously noted by this publication, chipmaking is a notoriously thirsty business, with foundries requiring millions of gallons of highly-pure water to operate. Any disruption to the water supply would be as disruptive as a power cut.
Last year, industry analyst IHS Markit said it expected the market for automotive semiconductors to reach $67.6bn by 2026, illustrating the dependence of the carmaking industry on chips, which control everything from infotainment systems to power steering and engine control.
In the short term, carmakers are facing a massive plunge in revenue as production fails to meet demand. In February, AlixPartners forecast a $60.6bn global drop in auto sales revenue for 2021 caused by the semiconductor shortage. ®