This article is more than 1 year old
Trustify CEO gets eight years for lying to investors, spending millions on homes, private jets, sports tickets
'Uber of private investigators' failed to live up to its name
A tech CEO who lied to investors to get funding and then blew millions of it on maintaining a luxury lifestyle, which included private jets and top seats at sporting events, has been sentenced to just over eight years in prison.
Daniel Boice, 41, set up what he claimed would be the "Uber of private investigators," called Trustify, in 2015. He managed to pull in over $18m in funding from a range of investors by lying about how successful the business was.
According to the criminal indictment [PDF] against him, investors received detailed financial statements that claimed Trustify was pulling in $500,000 a month and had hundreds of business relationships that didn't exist. Boice also emailed, called, and texted potential investors claiming the same. But, prosecutors say, the truth was that the biz was making "significantly less" and the documentation was all fake.
The tech upstart started to collapse in November 2018 when losses mounted to the point where Boice was unable to pay his staff. When they complained, he grew angry, fired them, and cut off all company email and instant messaging accounts, they allege in a separate lawsuit [PDF] demanding unpaid wages.
Even as Trustify was being evicted from its office, however, Boice continued to lie to investors, claiming he had $18m in the bank when accounts show he had less than $10,000. Finally in 2019 the company was placed into corporate receivership, leading to over $18m in losses to investors and over $250,000 in unpaid wages.
As well as creating false income and revenue documents, Boice was found to have faked an email from one large investor saying that it was going to invest $7.5m in the business that same day – and then forwarded it to another investor as proof of interest. That investor then sank nearly $2m into the business.
Profligate
While the business was failing, however, Boice used millions invested in it to fund his own lifestyle. He put down deposits on two homes in the US – a $1.6m house in Virginia and a $1m beach house in New Jersey – using company funds. He also paid for a chauffeur, house manager, and numerous other personal expenses with Trustify cash. More money was spent on holidays, a $83,000 private jet flight to Vermont, and over $100,000 was spent on seats at various sporting events. His former employees also allege in a separate lawsuit that he spent $600,000 on a documentary about him and his wife.
In total, prosecutors say, Boice spent $3.7m on himself out of the $18m that was invested in the firm.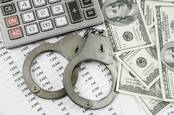 Software billionaire accused of hiding $2bn in income from IRS – potentially the largest tax scam in US history
READ MORE
In December, he pled guilty [PDF] to one count of securities fraud and one count of wire fraud, with his lawyers asking for a sentence of 60 months. He was given 97 months and three years supervised release when he gets out. He will also have to pay back $18,131,742.21 in restitution and forfeit $3.7m – something that his lawyers noted "virtually guarantees [that he] will be making substantial restitution payments for the rest of his life."
As for his history, letters [PDF] to the court by his mother and father as well as his ex-wife spoke of a driven but difficult man but one who had never resorted to criminality or fraud before the Trustify disaster.
According to both his parents – who divorced when he was young – "Danny" had been a promising athlete before being diagnosed with a blood disorder which meant he risked severe bruising and bleeding if he kept playing sports.
Ego
As a result, he went into tech – teaching himself coding and becoming a "computer whiz." According to his ex-wife, he had already "started, ran, and sold a successful start-up company" before creating Trustify. According to her, he then spent "several hundred thousand dollars" of that money into building it up over the course of a year. But the sale of his company had "fueled is thirst for success and inflated his ego to his detriment and was the turning point where he lost his way."
The collapse of the company and his subsequent prosecution had led to a re-evaluation, his ex-wife argued. Where previously he was "infallible and incapable of accepting blame or responsibility for literally anything," after he had pleaded guilty in December, Boice appeared contrite and traveled to his ex-wife's house to tell their 13-year-old son and 10-year-old daughter about the mistakes he had made and "accepted full responsibility" for his actions.
In his own pre-sentencing report quoted by his own lawyers in a separate filing [PDF] – Boice wrote: "There are no excuses regarding these offenses. I made several abysmal choices that led to these charges and my subsequent guilt."
He was sent down for 97 months for securities and wire fraud on Friday. ®