This article is more than 1 year old
Working from home is the future, yet VMware just extended vSphere 6.5 support for a year because remote upgrades are too hard
Death of Flash means vAdmins still have work to do to stay alive even with relaxed new deadline
VMware has extended support for vSphere 6.5 and vCenter 6.5 by a year, and says it needs to do so because customers are struggling to upgrade while their teams work from home/live in their offices.
News of the extension emerged in a Friday post by Paul Turner, veep for product management at VMware's Cloud Platform Business Unit.
"This month marks a full year that many businesses transitioned to a work from home model with the onset of the global pandemic," Turner wrote. "That's created challenges for some of our customers with regards to IT operations and strategic planning. It has also led to uncertainty as to when your business operations will return to normal."
"We can help address some of your challenges by offering you both flexibility and continued support as we all work together to get to the other side of this pandemic."
The change means that vSphere 6.5 will reach end of general support(EoGS) on November 15th, 2022. A year later VMware will also stop offering technical guidance.
The new end of support dates now mirror those for vSphere 6.7.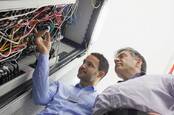 VMware says faster growth will come once customers get back inside data centres
READ MORE
But even with an extra year, vCenter 6.5 have work to do because the client to drive it requires Adobe Flash. And Flash was put to rest in January 2021. If you can keep old Flash-enabled browsers enabled in your environment, cross your fingers, and feel free to stick with vCenter 6.5. Otherwise, VMware recommends an upgrade to vCenter 6.7 and its shiny new HTML5 client.
Users of VMWare's virtual storage array, VSAN, have also been given some extra time. Versions 6.5 and 6.6 were slated to go EoGS in November 2021. Support will now end in October 2022. End of technical guidance remains at November 2023 for both versions.
This isn't the first time VMware has pointed out the negative effects of working from home: on in its Q3 2021 results call then-VMware-CEO Pat Gelsinger attributed slow signoff of major deals to customers who couldn't get their teams back into the office to work on major projects.
VMware is not alone in extending support due to the difficulty of conducting upgrades: Red Hat did likewise in April 2020. ®