This article is more than 1 year old
Use Windows and POS in the same sentence... Yes, that's right: Point of Sale. What were you thinking?
Microsoft's finest takes a break in the US retail space
Bork!Bork!Bork! The column that will not die returns with a bork guaranteed to send shivers down even the most hardened IT pro's spine – not only a sad-looking Windows, but a dread sticky note stuck to the screen.
Spotted by a Register reader in the halls of a well-known US department store (near the sunglasses section if you're in the market for some shades) this Point of Sale (POS) device has had a bit of a problem getting itself started.
We know the feeling.
Rather than hide its cashiers within kiosks, this store has adopted the open-plan approach, meaning that all manner of detail is on show, including a Post-it affixed to the distressed terminal. We think it was showing a handwritten telephone number and information regarding the store's loyalty programme, but it might have contained something a tad more confidential... which is why we liberally applied the magic of Microsoft Paint.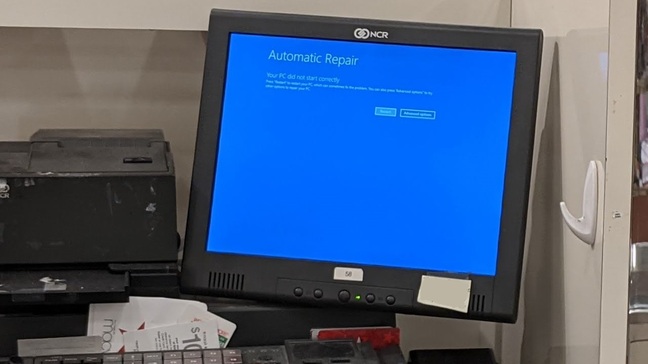 Click to enlarge
The shot was taken in February, before Microsoft issued an update to Windows 10 that thwacked certain printers around the world. As such, the blue screen of failure on display could have a variety of causes – the grimness of its surroundings leading to a hardware failure, a botched attempt to update the POS software by a remote admin, or Windows simply deciding that today is the day it wants to get reacquainted with a repair disk.
It would never have happened with the considerably less smart (or even mechanical) POS systems of old, capable of inflicting the Heimlich manoeuvre via an impressively powerful spring-loaded cash drawer, or trapping the fingers of unwary staff via a manual credit card imprinter machine.
More fun is that sticky note. Let those administrators who have never found their carefully crafted security profiles undone by a forgetful user helpfully pinning a "use this password" note to the staff noticeboard (handwritten or, more likely, in Comic Sans) cast the first stone. ®