This article is more than 1 year old
Cisco turns more Catalyst 9000s into application platforms, so devs and NetAdmins can share a view
ThousandEyes agent to run on switches that don't do Docker, hook into AppDynamics to monitor all the things
Cisco has baked network monitoring and visibility tools it bought along with ThousandEyes into its Catalyst 9300 and 9400 switches, and integrated ThousandEyes with its AppDynamics application performance monitoring line.
The new ThousandEyes capability, which will be free to owners of the switches, is motivated by Cisco's belief that customers need to understand more about the state of their networks, for two reasons.
For one, Cisco believes that many organisations use so many SaaS applications and clouds that it's essential to understand performance. The other is that applications – especially customer-facing applications - are more critical than ever, so developers and network admins must be able to work in harmony to ensure uptime and optimal performance.
To deliver both outcomes, Cisco has imbued more of its switches with the ability to run code other than that devoted to shifting and securing packets. Today, the Catalyst range offers some models that pack an SSD and can run applications packaged as Docker containers, plus other models that have enough flash storage for daily operations but can't run applications.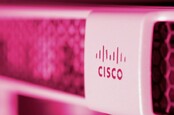 Cisco issues blizzard of end-of-life notices for Nexus 3K and 7K switches
READ MORE
The latter models have been modified so they can run the ThousandEyes agent.
"We are the only app natively supported on the flash-based version of the switch," said Angelique Medina, director of product marketing for ThousandEyes. The Register asked if Cisco users can expect more apps to run there in future, but she was noncommittal beyond saying it may not be the last time Cisco gives this a try.
Whether the ThousandEyes agent is a container or something else that Cisco has done to get it running other devices, its integration with AppDynamics has been accomplished with the less interesting method of… using the available APIs. Doing so is free, and ThousandEyes data become available to view in the AppDynamics SaaS service.
Medina said ThousandEyes and AppDynamics have further tie-ins planned. "We'll be making some fast-follow announcements quite soon," she said, re-iterating that monitoring apps and networks, and their interrelationship, just makes sense in these cloudy days. ®