This article is more than 1 year old
Amazon eyes up space startups for an AWS Accelerator, dangles $1m of cloud credits for a chosen ten
Planting that Bezos flag in the newest cloud sector: spaaaaaace
Amazon boss Jeff Bezos is known for his proclivity towards all things space, and now the Web Services wing of his empire has earmarked $1m in cloud credits that will be evenly distributed to 10 space startups.
Clearly, the world's richest man thinks commercial space will be a big grower and wants those fledgling businesses to nail their corporate colours to AWS via the Space Accelerator programme.
Ten companies are due to be selected by by AWS and space investment group Seraphim for an intensive four-week program with AWS Cloud geared toward accelerating research and growth. Each would then be handed $100k of AWS Activate credit.
Seraphim will provide investment and business development guidance, which may be handy considering the danger of the odd shocking invoice or two in the event of unchecked cloud usage.
As for who qualifies for the largesse, which amounts to 23 minutes' worth of operating profits for AWS's parent firm: "startups at all stages of maturity" can apply, as long as they're working with space technology or space derived data and have a clearly defined mission. Anything from Earth observation, through electronics and robotics to launch manufacturing and operations could qualify.
Applications must be in by 21 April and as well as the nature of the project itself and the startup's chances of delivery, judges will be taking a look at "the creative application of AWS to solve problems".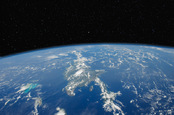 To bring data down from the heavens, come to GSaaS, says Microsoft as it launches Azure Orbital
READ MORE
The move is the latest salvo in a new front in the cloud wars – the space sector. AWS Ground Station opened up in 2019, with the aim of providing operators a means to control and download data from satellites without requiring the building and maintaining of infrastructure.
The company is also pitching the AWS for Aerospace and Satellite business segment, "enabling successful space missions with the cloud" as the company put it. Always keen to jump on a trundlewagon, AWS most recently boasted of its role in the processing of data from the Mars Perseverance Rover.
As for Microsoft, it followed suit in 2020 with a preview of Azure Orbital, upping the ante in the acronym wars with Ground Stations as a Service (GSaaS), also intended for the control of satellites and download of data for processing. ®