Long-running age discrimination case against IBM enters discovery, as judge trims off some claims
No new plaintiffs allowed to join
IBM will have to face several civil claims of age discrimination filed in a collective action by former workers, a federal judge has ruled, while rejecting Big Blue's attempt to entirely dismiss the action.
The former workers allege they were fired as part of a campaign to replace older employees with younger ones. IBM has denied any allegations of wrongdoing.
In a 77-page order [PDF], Manhattan US district judge Valerie E. Caprioni affirmed that former Big Blue staffers that had agreed to arbitration proceedings could not participate in the class and collective-action suit. This ruling encompassed those workers that had already exhausted their avenues for redress through third-party arbitration.
The original complaint [PDF] was first filed by former IBM workers Edvin Rusis, Henry Gerrits, and Phil McGonegal in September 2018. An additional plaintiff, David Ho Eng, was added in December. They alleged IBM prioritised older workers for layoffs, and refused to consider them for other open positions. This, they argued, violates anti-age discrimination legislation in the states of California, North Carolina, and New Jersey.
The plaintiffs aim to claim a class that could consist of almost 13,000 people over the age of 40 that left IBM after July 2017.
"Over the last several years, IBM has been in the process of systematically laying off older employees in order to build a younger workforce. Between 2012 and the present, IBM has laid off at least 20,000 employees over the age of forty. Such discriminatory layoff and hiring practices constitute unlawful discrimination under the ADEA and state anti-discrimination law," the suit claimed.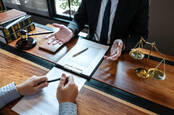 Ex-IBM staffer files lawsuit claiming company stole his cloud computing tech IP
READ MORE
The complaint points to a report by ProPublica and Mother Jones published in March 2018 that alleged the existence of systematic efforts within the company to weed out older employees, with over 20,000 American employees aged over 40 axed between 2013 and 2018.
Other ammunition came from Big Blue itself: in the 2018 complaint, the plaintiffs cited a 2006 paper published by IBM's consulting branch that implied older workers were less valuable than millennials. The paper claimed newer generations were "much more innovative and receptive to technology," and thus better able to adapt to digital transformation processes, which "can yield substantial and permanent incremental capabilities and increases in productivity."
In her ruling, Judge Caprioni allowed the claims of Rusis and Gerrits to continue, although she dismissed Eng's, as he failed to properly exhaust his avenues for redress through the Equal Employment Opportunity Commission (EEOC) before filing suit.
Caprioni also noted that when Eng first filed a charge of discrimination with the EEOC and the California Department of Fair Employment and Housing, he didn't raise any allegations of age discrimination, but rather claimed he was treated unfairly over his race and national origin. Additionally, Eng is barred from "piggybacking" on any future separate EEOC charge in the future.
While IBM alleged McGonegal had similarly failed to exhaust EEOC avenues before filing suit, Caprioni said there was limited information available to definitively prove this, and thus further discovery is required to determine whether he belongs in the suit or should be dismissed.
IBM and the plaintiffs were ordered to meet before April 23 to determine a schedule for discovery. As the case has been in progress for over two years, the court said it would not allow any new plaintiffs to join the action, although it may reconsider in the future.
In a statement provided to legal news site Law360 by the counsel for the plaintiffs, Shannon Liss-Riordan of Lichten & Liss-Riordan PC, said: "We are pleased that we will finally get to begin discovery, which will help move the case forward."
The Register has asked IBM for comment. ®