Microsoft to supply US Army with 120,000+ HoloLens units in contract worth 'up to $22bn'
Gives Blue Screen of Death a whole new meaning
Microsoft has agreed to supply at least 120,000 production units of its HoloLens augmented-reality headsets to the US Army.
In 2018, the software giant signed a $480m contract to supply 100,000 prototypes of the techno-goggles to Uncle Sam. This first batch of hardware was intended to "increase lethality by enhancing the ability to detect, decide and engage before the enemy."
And now, the software giant has announced it's moving on from the prototype phase to a production run and field deployment of its headgear, dubbed the Integrated Visual Augmentation System (IVAS).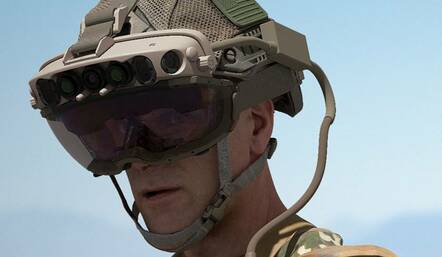 GI 3DO .. Microsoft's snap of a US soldier wearing its HoloLens-based headgear
Microsoft told the AP newswire the contract could be worth up to $21.9bn over the next decade; the deal is set at five years and can be extended another five. That dollar figure may be on the optimistic side given that the IVAS project was assigned $1.1bn in funding, and Congress cut that by 20 per cent.
The HoloLens 2 carries a $3,500 price tag at Microsoft's online store.
"The IVAS headset, based on HoloLens and augmented by Microsoft Azure cloud services, delivers a platform that will keep soldiers safer and make them more effective," said the Windows goliath's technical fellow Alex Kipman.
"The program delivers enhanced situational awareness, enabling information sharing and decision-making in a variety of scenarios."
US Department of Defense to fling $1.76bn at Microsoft
READ MORE
The US Army's statement goes into specifics: stating the equipment is made up of "high-resolution night, thermal, and soldier-borne sensors integrated into a unified heads-up display." The kit features "augmented reality and machine learning to enable a life-like mixed reality training environment" so that Close Combat Force personnel can also "rehearse before engaging any adversaries."
In short, the gear is supposed to help soldiers fight as well as train, we're told.
In 2019, Microsoft landed the Pentagon's $10bn decade-long, winner-takes-all JEDI cloud deal, a move that Amazon continues to protest.
And so today's news isn't out of the ordinary: Redmond provides all sorts of services to the US military.
While Big Tech workers wrestled with the morality of supplying powerful AI and data analytics systems to governments, Microsoft president Brad Smith argued succinctly at one point: "We believe in the strong defense of the United States and we want the people who defend it to have access to the nation's best technology, including from Microsoft." ®