No payrise for Oracle CEO Safra Catz, but at least there's $76.4m from trading company shares to fall back on
That and the $950k salary
---
Poor Safra Catz has had to find some way of making ends meet since she was offered no increase in her salary, no bonus, no new equity grant, and no performance-based equity vesting for her role as CEO of $40bn-revenue Oracle.
She could not be expected to live within her $950,000 salary alone. Nor did she have to. Luckily for the exec, the opportunity to convert some derivatives came her way.
According to a Securities and Exchange Commission filing, on 19 March she was able to acquire 1.1 m Oracle shares at $32.43 before disposing of them at the weighted average sale price of $66.48. A few days later, on 22 March, she performed a similar deal, this time acquiring 1.15 million shares at $32.43 before selling them for $66.31. Between them, the two transactions offered a tidy $76.4m profit before tax.
It must be of some comfort in these difficult times to be able to get a financial leg-up of more than 10 times your salary.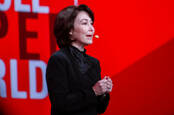 Won't somebody think of the Oracle execs? No pay rises, bonuses, equity awards for top brass until 2022 at earliest
READ MORE
Catz has been CEO of Oracle since 2014 and a member of the company's board of directors since 2001. She previously served as Big Red's chief financial officer. Before joining Oracle, she spent time in investment banking.
She is not the only one in enterprise software to see the opportunity to make a fast buck when the opportunity arises. In September last year, ServiceNow founder Fred Luddy sold around $13.275m in ServiceNow stock, adding to the $12m he sold in July.
Spare a thought then for the leadership of rival enterprise software firm SAP. This month CEO Christian Klein saw a multi-year variable compensation scheme worth €5.1m and supplementary compensation worth €1.1m fail to land in his pay packet. However, he did receive €2.19m for the year, so we guess somehow he'll soldier on. ®