Oracle dangles new cloud lift-and-shift service in the wake of SAP RISE
It's all about driving down costs on OCI... so it can compete with AWS, claims analyst
Oracle has launched a free service it hopes will convince more customers to shift their applications to the cloud – Oracle's cloud, that is.
In a launch that bears more than a striking resemblance to RISE, SAP's recently launched programme to migrate customers to the fluffy white stuff, Oracle has put its hat in the ring with Oracle Cloud Lift Services (OCLS).
OCLS was created to give Oracle customers "expanded access to technical tools and cloud engineering resources to quickly migrate workloads to Oracle Cloud Infrastructure (OCI)."
The service promises a "single point of contact for all technical delivery and removes critical expertise barriers for adoption of OCI services", in what might be a tacit admission that issues sometimes fall between infrastructure and application technical teams during cloud migration.
Oracle also said it would provide guidance from cloud engineers on planning, architecting, prototyping and managing cloud migrations.
In a launch interview from his kitchen, Vinay Kumar, senior veep for Oracle engineering, said customers sometimes felt they didn't have the competencies to move to Oracle Cloud. Also, they feel it takes too long to get any return. Internal education and proof of concept could be lengthy, he admitted.
Remarkably, nobody – despite trying – has moved any substantial Oracle customers to their cloud or cloud database...
Meanwhile, there was the problem with integrating with existing cloud infrastructure, he added.
"Customers were like, 'I already have one cloud, or at most two and it takes a long time to integrate yet another cloud'. This is because the workload is one thing, but making cloud work seamlessly with the controls that customers have in on-prem? That was the biggest barrier [to moving to the cloud] that we uncovered," Kumar said.
OCLS is an offer to "de-risk" this by giving a single port of call and contract for the relevant Oracle skills. Oracle said it was working with other suppliers on the service, but has so far only named Infosys.
RISE vs Cloud Lift
In January, SAP launched a similar-sounding service in RISE, but with some differences: SAP launched with a long list of systems integrators and consultancies on board. It also promised to take customers to any of the three most popular hyperscalers, as well as its own cloud.
Lastly, while SAP promises to lift and shift users' existing applications, a second part of its service is to analyse business processes and help customers move on to the latest version of applications, transforming their business as they go, or so SAP has said.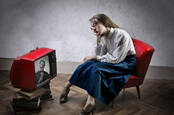 About $15m in advertising booked to appear on millions of smart TVs was never seen by anyone, says Oracle
READ MORE
Holger Mueller, veep and principal analyst at Constellation Research, said Oracle needs to move its customers to its cloud to make the economies of scale work on the infrastructure, although it has the luxury of a lot of "organic" load under its control.
"If anything it is a sign that Oracle is confident about its Cloud Gen2 now," he said.
"SAP threw the kitchen sink at RISE, desperate for cloud revenue. Oracle wants and needs cloud revenue – but is not throwing everything at it, yet."
Mueller said the main reason that Oracle was only offering the service for its own cloud infrastructure was to drive up volumes, and hence drive down cost, so it could attempt to compete more effectively with AWS on price.
"It has an advantage in that OCI was designed to run Oracle workloads – so they truly run best there. Remarkably, nobody – despite trying – has moved any substantial Oracle customers to their cloud or cloud database.
With Oracle getting Gen2 going – this will get even harder," Mueller said.
One customer did move their data out of Oracle: Amazon. ®