This article is more than 1 year old
'Imagine' if Virgin Galactic actually did sub-orbital tourism: Firm unveils new chrome job on SpaceShip III
That schedule, however, is looking a lot less shiny
The ambitiously named Virgin Galactic has unveiled the latest vehicle in its fleet – the Spaceship III named VSS Imagine.
The reveal comes ahead of ground testing for the suborbital jalopy which, should all go well, will lead to glide flights this summer from the company's base at Spaceport America in New Mexico.
The "breakthrough livery design" is, er, silver. A similar "breakthrough" exterior finish has featured on Elon Musk's exploding Starships. Heck, even the old Apollo command module featured a silver coating.
SpaceShipTwo, VSS Unity, is mostly white with some reflective coating and decorative branding.
As well as the expected thermal protection, Virgin Galactic explained the thinking behind the mirror-like sheen: "This dynamic material is naturally appealing to the human eye, reflecting our inherent human fascination with space and the transformative experience of spaceflight."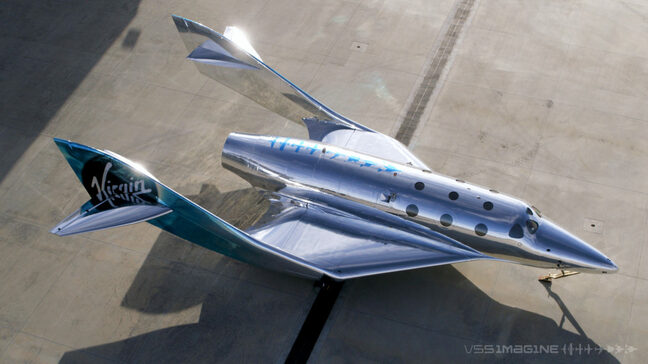 VSS Imagine (pic: Virgin Galactic)
Alrighty then.
More importantly, the arrival of VSS Imagine represents a change in how the aircraft are constructed. The design is now modular and the company expects that this third generation will represent the way forward for subsequent vehicles.
A fleet will certainly be needed if the company is to get anywhere near its multi-year goal of 400 flights per year per spaceport. The nature of the existing SpaceShipTwo's construction (and its carrier aircraft) does not particularly lend itself to scaling up operations.
VSS Imagine's predecessor, VSS Unity, remains grounded after an aborted test at the end of last year. Virgin Galactic's latest set of financials put the return to flight as being in May 2021, something confirmed with yesterday's unveiling. An exact date has yet to be set.
For analysts tiring of missed deadlines and holdups, the reveal of something ever so shiny will not have distracted attention from the fact that passengers will not be taking flight in VSS Unity until early 2022.
By then it will be coming up for 18 years since SpaceShipOne scooped the $10m Ansari X-Prize and Virgin Galactic boss Richard Branson unveiled his ambitions for sub-orbital tourism.
How time flies. ®