This article is more than 1 year old
Canonical releases Ubuntu on Windows Preview with early builds, new tools for the brave
But no official Linux GUI support yet
Canonical has released a Community Preview of Ubuntu on Windows as "a sandbox for experimenting with new features and functionality" on Windows Subsystem for Linux (WSL) 2.
Ubuntu on Windows is normally installed via the Microsoft Store, and only LTS (Long Term Support) releases are available.
By contrast, the new preview, which is only available by a special link given in Canonical's post here, is a frequently updated build, currently based on "Hirsute Hippo", the codename for Ubuntu 21.04 for which the stable release is expected on 22 April.
Users who risk installing the preview, which is not as stable as the normal version ("It is not recommended as a 'daily driver' unless you are OK handling the occasional hiccup"), will also get the benefit of new tools.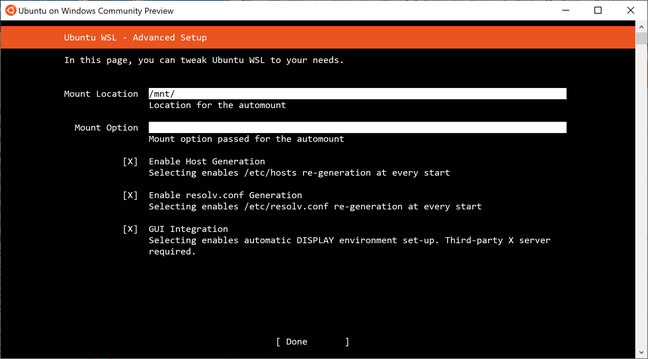 The new installer for Ubuntu includes an option for 'Legacy GUI Integration' but it is not full official support yet
The setup is more user-friendly thanks to the Subiquity installer, and a utility called ubuntuwsl, many features of which are "experimental", allows tinkering with settings such as how Windows drivers are mounted. There is even a text-based GUI of sorts.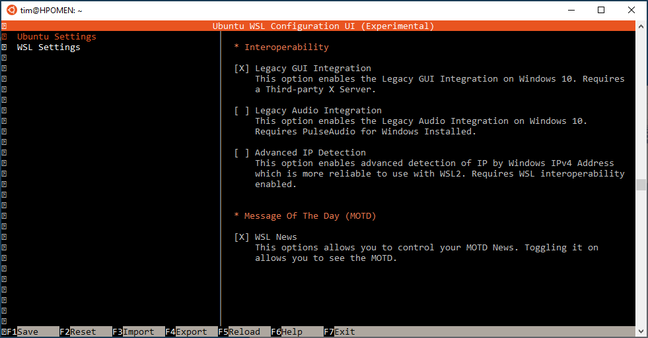 The ubuntuwsl utility, for conjuring various options, has a text-based GUI option
Canonical said that the preview is important "to match the speed of innovation in open-source and test new features with the community at a faster pace."
One feature that is awaited with interest is official support for a GUI on WSL 2. At the Build event in May last year, Microsoft program manager Craig Loewen said that adding Linux GUI app support to WSL is "on our roadmap" and that "our goal is for you to be able to run Linux GUI apps on your desktop seamlessly alongside your Windows apps."
We have heard little since; perhaps there will be more at the Build expected at the end of May this year. Microsoft's implementation will communicate with "a RDP client on the Windows host," according to Loewen.
Sadly there is no sign of this in the new Windows Community Preview, though there is an intriguing option to include "Legacy GUI Integration," though it "requires a third-party X server."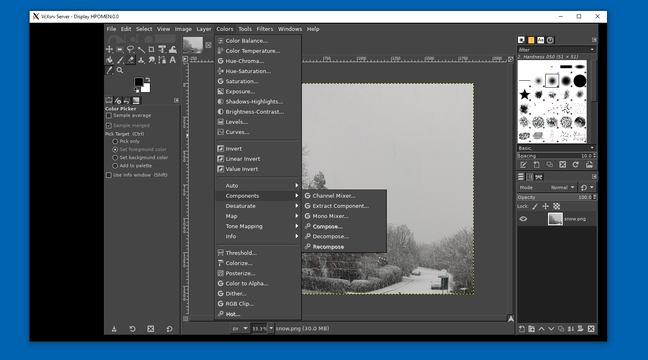 The GIMP image editor running on Linux on Windows
We installed VcXsrv, enabled the legacy GUI integration, and then typed sudo apt install gedit. This pulled down a bunch of dependencies. Running gedit, the GNOME text editor, then worked immediately with no need for any additional configuration. Getting more ambitious we tried GIMP, the popular cross-platform image editor.
This crashed our X server, but worked if VcXsrv was reconfigured as a single window, rather than multiple windows. We could open and edit images from the Windows file system as well as within the WSL 2 VM – though we cannot promise that this kind of setup will be stable.
The original thinking behind WSL was to improve Windows 10 for developers, many of whom are building and debugging applications which run in production on Linux servers. GUI support is not so important in this context, though it can still be useful. Official GUI support, when it comes, has the potential to broaden the appeal of WSL and make Windows 10 into a fully hybrid Windows/Linux system, for those who want it. ®