This article is more than 1 year old
LG Electronics finally gives up cellphone business
Lack of product enthusiasm in a stale market during a semiconductor drought finally killed it
LG Electronics' board has tired of its loss-making smartphone business and ordered its closure.
The South Korean electronics titan announced the decision on Monday, after enduring six years of operating losses totaling an estimated US$4.4bn.
"LG's strategic decision to exit the incredibly competitive mobile phone sector will enable the company to focus resources in growth areas such as electric vehicle components, connected devices, smart homes, robotics, artificial intelligence and business-to-business solutions, as well as platforms and services," reads a canned statement.
The chaebol will shut down its smartphone operations by July 31, with some lingering inventory available on the market while supplies last. LG Electronics has promised to provide service and software support for existing users for an undisclosed period of time.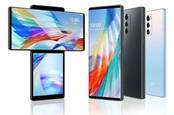 Another week, another dual-screen phone, this time a T-shaped LG thingamy
READ MORE
LG's smartphone business looked to be in peril after its February 2021 decision not to build a rollable phone, called "Project Explorer".
Other efforts to stand out, such as the "Wing" folding phone, didn't turn things around or help LG to crack a market in which device replacement cycles have slowed markedly in recently years.
LG's problems were not new. Counterpoint research says it had 3 percent global market share in 2018, but the Korean company hasn't made its list of the top seven suppliers since. In 2016, analyst firm Gartner described as follows:
Despite its innovation and span of products, LG Electronics has missed a vital inflection point, losing competitive edge and market share. It faces challenges from premium phone vendors Apple and Samsung, as well as leading Chinese Android vendors, including Huawei, Lenovo and Oppo.
To further complicate matters, unlike competitors such as Samsung, LG does not have an in-house chip manufacturing arm, leaving the corporation to fend for itself during a worldwide semiconductor drought where they are not a big enough customer to demand preferential sales treatment.
A January 2021 leaked internal memo from LG CEO Kwon Bong-seok of this year foreshadowed yesterday's closure, describing LG's mobile business as uncertain, but promised no redundancies. Yesterday's announcement stated that employment decisions would "be determined at the local level." ®