This article is more than 1 year old
VMware adds support for 80-core Ampere Altra chips to its experimental Arm hypervisor
The 'we think this is mostly for SmartNICs' stance is looking a little thinner
VMware has released an update of the mostly experimental cut of its flagship ESXi hypervisor for the Arm architecture, adding support for 80-core server processors and hinting that more server-makers have come aboard.
Offered to the public as a technology preview under VMware's program of releasing official but unsupported code as "Flings", the hypervisor differs from the "Project Monterrey" effort that was aimed at running workloads on SmartNICs, network interface cards that pack an Arm SoC to give them the capacity to handle other chores.
SmartNICs are widely used by hyperscale clouds to provide extra isolation and reduce the amount of work that needs to be done by CPU cores that the big clouds rent to their customers. VMware looked to be offering a way for others to adopt the same technique.
While VMware emphasised SmartNICs as its preferred use case, it also issued the Fling and targeted it at edge devices and even servers running Ampere's Arm-based eMag processors, from Avantek and Lenovo.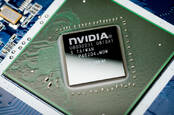 Nvidia says microservices will drive a SmartNIC into every server
READ MORE
The changelog for the new version 1.3 of ESXi Arm Edition mentions it has added support for Ampere's Altra processors – 80-core, beasts that can hit 3GHz in turbo mode. Ampere also has a 128-core Altra in the works, aimed at hyperscale servers.
Another notable entry in the changelog is a listing for and link to "experimental" single-socket Arm-powered servers from Gigabyte and a workstation from US-based Phoenics Electronics.
VMware's public position, however, remains that stateful firewalls on SmartNICs are its first intended production workload for ESXi-on-Arm.
The new version 1.3 of the Fling also adds features including:
Improved hardware compatibility (various bug fixes/enhancements)
ACPI support for virtual machines
NVMe and PVSCSI boot support in vEFI
Workaround for ISO boot on some Arm servers
Address VMM crash with newer guest OSes and Neoverse N1-based systems
Improved guest interrupt controller virtualization
Improved (skeletal) PMU virtualization
Improved big endian VM support
The new update requires a fresh installation rather than an upgrade. You can find the Fling here. ®