This article is more than 1 year old
Twitter nukes AI-generated twits who backed Amazon and pushed anti-union rhetoric
Plus: Waymo CEO is standing down, Volvo is partnering with a self-driving startup to stay relevant
In Brief Twitter has suspended multiple accounts purporting to be Amazon warehouse workers defending the mega-souk's working conditions and speaking out against unionization.
All eyes are on the e-commerce giant as thousands of workers in America try to form a union.
The corporation's PR people also just admitted they scored "an own goal" in badly handling criticism of its working environments, and the US National Labor Relations Board determined Amazon illegally fired two of its workers, as reported by the New York Times. Those staffers, Emily Cunningham and Maren Costa, had publicly urged their bosses to do more on climate change and address complaints raised by the dotcom's warehouse workers.
Amid all this, various Twitter accounts popped up all with usernames starting with AmazonFC – that's FC for fulfillment center, aka a warehouse – followed by a first name, and all tweeting in support of the company. These users all seemed to follow one another and claimed to be Amazon workers. And their profile pictures appeared to be generated by machine-learning software, as if they were lifted from thispersondoesnotexist.com or similar.
Amazon said the profiles are bogus, and it has nothing to do with them. "It appears that this is a fake account that violates Twitter's terms," an Amazon spokesperson told the Beeb regarding one of them. "We've asked Twitter to investigate and take appropriate action."
It's likely they are parody accounts or set up to masquerade as another ill-judged PR push by Amazon to put a dent in its reputation. Don't forget, the Jeff-Bezos-run empire formed an army of "ambassadors" from its ranks on Twitter to tweet positive things about the company as well as anti-union talking points in 2019.
Nine months on from the release of GPT-3
GPT-3, the buzziest AI text-generation tool today, is now powering some 300 applications and generates 4.5 billion words a day, according to its creator, OpenAI.
When it was announced that the model would be commercialized via a cloud-hosted API, the San Francisco-based research-lab-turned-startup opened the service up to beta testers. At first, it was free to use and developers tinkered with the system to create all sorts of novel software, such as using it to generate code or text games.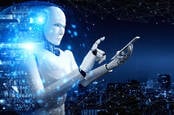 What happens when your massive text-generating neural net starts spitting out people's phone numbers? If you're OpenAI, you create a filter
READ MORE
Now OpenAI charges fees to use its service, and there are apparently about 300 services that are willing to pay for it. OpenAI listed a few of them: there's Viable, which is using it to automatically analyze chat logs and online reviews to improve customer service; and Algolia, another company that uses the tool for search to also similarly boost customer service.
You can read more about that here.
Volvo, Aurora in self-driving pact
Swedish carmaker Volvo wants in on the self-driving game and has paired up with a startup to start developing autonomous trucks.
Building self-driving vehicles is expensive; a lot of money goes into fleshing out the software and procuring the hardware let alone coming up with the training data and testing regime. Many startups have simply run out of cash and unless they're bankrolled by big investors, the trend is to pair up with an automaker.
And so the latest partnership of this ilk is between Volvo and Aurora, the latter of which swallowed up Uber's dead-end self-driving car efforts last year.
"Creating a viable autonomous on-highway offering requires close partnerships with both customers and tech partners to develop the needed capabilities," Nils Jaeger, President of Volvo Autonomous Solutions, said in a canned statement.
"This exciting partnership brings our goal of transport as a service an important step closer and will accelerate our commercial offer for hub-to-hub applications in North America. Aurora is already a leading force in autonomous systems, and its integrated self-driving stack, software, hardware and data services platform combine to offer a clear path towards efficient and safe on-highway solutions in the medium term."
Waymo will have two new co-CEOs as its big cheese moves moves into an advisor role
This week John Krafkic announced he was stepping down as CEO of the robo-car startup spun out of Google.
Waymo will have two new co-chief execs, Dmitri Dolgov and Tekedra Mawakana, who will be promoted from their current roles of CTO and COO, respectively. Krafkic didn't explicitly say why he's decided to move on in his announcement, and he won't be leaving the company completely: he will stay on as an advisor.
We hate to guess but perhaps it's the fact that Waymo is nowhere near where it expected to be some years ago. As Ars pointed out, Waymo said it ordered 82,000 vehicles in 2018, and today it has: "well over 600." Krafkic, who used to run Hyundai Motor America, was brought in to bring auto manufacturing and industry experience to Waymo ... but the upstart is still figuring out the hard task of producing a viable driverless car. For now, he may as well take a back seat, pun absolutely intended.
"After five and a half exhilarating years leading this team, I've decided to depart from my CEO role with Waymo and kick-off new adventures," he said. "To start, I'm looking forward to a refresh period, reconnecting with old friends and family, and discovering new parts of the world.
"And I'll continue to serve as an advisor to Waymo, as you expand the world's first autonomous public ride-hailing service, Waymo One, and ramp our autonomous delivery product with Waymo Via." ®