This article is more than 1 year old
Nestled between donuts and gingerbread creations lurks the Windows 7 EOS fairy
Windows whinging? Take your mind off it with a sausage roll
Bork!Bork!Bork! The Easter Bunny has been and left us with a basket of bork in the form of Microsoft's Windows 7 End of Support (EOS) fairy.
Readers might remember the excitement at the beginning of 2020 when, with a wave of a sparkly wand, great swathes of Windows 7 installations were suddenly deemed out of support and Microsoft switched the carrot of an easy upgrade to Windows 10 for the stick of an end-of-support warning (aside from those enterprises with deep pockets and a desire to stick with the OS of decades past).
Then again, considering how Windows 10 updates have been going of late, some of those still clinging to Windows 7 might be feeling a little smug.
Aside from the Biggleswade Greggs, that is. There the work of the Microsoft EOS fairy is visible in all its glory as a screen more normally used to persuading punters to part with pounds for pasties is instead revealing a little too much about what is going on behind the scenes.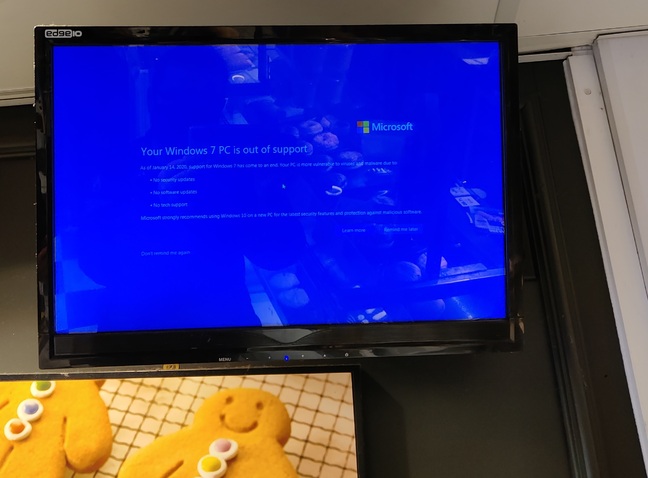 Click to enlarge
To be sure, we've worked in enough fast-food emporiums in our time to know that the less said about the supply chain involved in transforming raw materials into tasty grease-based treats, the better. To be fair to the bakers, our experience predated its eye-popping expansion and we're sure all is splendid. But still… the memories come seeping back whenever we bite into a common-or-garden sausage roll.
Our reader, Michael Kennedy, noted that this particular branch of the bakers was festooned with plastic "separating the staff from me." Sadly, it appears that similar preventative measures have not been invested in the IT responsible for Windows 7 which, despite the protections afforded to staff, was "more vulnerable to viruses."
Such are the times in which we live. ®