This article is more than 1 year old
Taiwan's PC-fest COMPUTEX cancels real-world edition – three months after promising in-person gathering
If you can't guess why, how's life under that rock?
The organisers of COMPUTEX, Taiwan's annual PC-tech-fest, have shelved plans to run a real-world event this June.
Event organisers the Taiwan External Trade Development Council (TAITRA) and Taipei Computer Association (TCA) announced that the event would return to the real world in December 2020.
At the time the organisers promised to "utilize artificial intelligence (AI) for the first time to create a smart Online-Merge-Offline (OMO) exhibition platform, connecting the tech community through an innovative model that breaks barriers and limitations."
But last week it emerged that not even AI could save COMPUTEX 2021 from the complexities of COVID-19.
"With another wave of coronavirus pandemic across the world, it doesn't look like we are close to the end," said a brief statement from event organisers.
"The majority of the show's stakeholders, including international exhibitors, visitors, and media, cannot join the show due to border control. Therefore, the organizers of COMPUTEX have decided to cancel the onsite exhibition this year.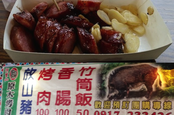 Taipei's tech malls are less than sum of their parts
READ MORE
COMPUTEX attracts thousands of visitors from around the world and Taiwan – which has recorded just 1,050 cases of COVID-19 – is understandably nervous about an influx of visitors.
The nation does currently allow business travellers from 15 nations – among them Australia, Singapore, and Vietnam – to apply for entry, provided a local company says the visit is needed, and the visitor secures a negative COVID test three days before flying, spends five days in quarantine and then again tests negative. Costs of quarantine accommodation and testing are borne by visitors.
That amount of hurdle-jumping, and the greatly reduced amount of international flights, has not seen numbers of trips to Taiwan soar.
Taiwan has, however, recently opened a travel bubble to the Micronesian nation of Palau, a destination noted as a diver's delight.
COMPUTEX will now revert to a virtual format, and hopefully retain its status as the source of big PC-related pronouncements from Intel, AMD and Microsoft, all of which have remained loyal to the show even as its content diversified beyond the desktop. ®