This article is more than 1 year old
Privacy activist Max Schrems claims Google Advertising ID on Android is unlawful, files complaint in France
Tracking ID placed on mobile device without informed consent, says campaign group
Privacy group noyb, founded by rights advocate Max Schrems, has instigated a new complaint about Google's use of the Android Advertising ID (AAID) to track users.
Last November the European group filed a complaint to the German and Spanish data protection authorities concerning Apple's IDFA (Identifier for Advertisers) on iPhones, claiming it was equivalent to a tracking cookie being placed by a website without the user's consent, which is against the EU's e-Privacy law.
The group is now taking similar action against Google, with a complaint filed with France's data protection authority. In the complaint [PDF], noyb claimed the Android Advertising ID (AAID) "is simply a tracking ID in a mobile phone instead of a tracking ID in a browser cookie," and therefore both the storage of the AAID and its access are illegal because this "should be authorized by the user through prior consent."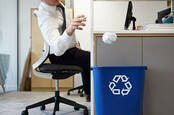 Privacy Shield binned after EU court rules transatlantic data protection arrangements 'inadequate'
READ MORE
The complaint has been filed by a private individual whose name is redacted, referred to as "the complainant." According to the document, "the complainant was never requested such consent, neither during the first setup of the system, nor at a later stage."
The document also notes the widespread use of the AAID for functions including identifying a specific device or application, personalising advertising, and customer-matching across IDFA and AAID.
The document requests that the French authority investigates the matter, orders Google to bring its data processing into conformance with privacy law, and imposes a fine. According to noyb, CNIL (Commission Nationale de l'Informatique et des Libertés) can take action "without the need for cooperation with other EU Data Protection Authorities."
This is the second complaint against Google filed by the pressure group. An earlier complaint filed in Austria includes the observation that the AAID cannot be deleted, only reset, and that resetting the AAID does not delete previously collected data nor prevent further data from being collected.
The work of Schrems has had a powerful impact in the past. His action complaining about Facebook data being transferred to the US resulted in the invalidation of the the EU-US Privacy Shield agreement. ®