Apple extends Find My support to third-party vendors including Belkin, Dutch bike maker VanMoof, and Chipolo
Expensive bike, earpods can now be tracked from inside the walled garden
An upgrade to Apple's Find My app has added support for devices from third-party manufacturers including gadget-tracking startup Chipolo, Belkin, and niche Dutch bike maker VanMoof.
Find My is a service that allows iPhone, iPad, Mac, and AirPod owners to locate their missing devices through a dedicated application or website. Until now, Apple had refused to support third-party vendors, forcing careless punters to rely on other services, such as Tile or (ironically) Chipolo.
That's changed with the launch of the Find My Network Accessory Program, which will allow independent firms to piggyback off Apple's tech, provided they meet Cupertino's stringent privacy and security rules.
Apple first announced plans to extend Find My in June of last year, during its State of the Union developer address as 2020's WWDC event. Although it didn't go into details (and the precise rules are shrouded by Apple's developer program paywall), the company said the process is "end-to-end encrypted, anonymous, and extremely data and battery efficient."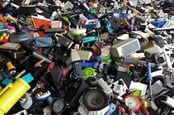 Nope, still can't find them. Skullcandy slips Tile's gadget-tracking hardware into individual earbuds
READ MORE
The first third-party devices to support Find My include VanMoof's S3 and X3 electric bikes (each retailing at £1,798), Belkin's SoundForm wireless earbuds (£99), and the Chipolo ONE Spot gadget tracker (pricing yet to be announced, but expected to launch in June).
The fate of Apple's long-awaited AirTags tracking devices remains uncertain, and with support for Chipolo's own fare, it's unclear whether there's any need going forward. It wouldn't be surprising to see AirTags suffer the same fate as the doomed AirPower charging mat.
Notably absent from the line-up is Tile, arguably the biggest player in the gadget-tracking space, with $101m in VC funding under its belt. That's hardly surprising for two reasons. First, Tile has moved from a purely hardware business model and now licences its tech to third parties, including HP and headphone maker SkullCandy.
But most significantly, there's bad blood. Tile has repeatedly accused Apple of anti-competitive behaviour over its previous iron-clad control of the Find My ecosystem before Congress, and in a separate complaint to the European Commission filed in 2020.
No love lost there, eh? ®