Ex-Geeks staff lose legal bid to claw back withheld training costs from final paycheques
Company acted fairly and reasonably, rules judge
Two men who quit software development firm Geeks Ltd failed to prove the company unlawfully withheld more than £2,000 from each of them to claw back its training costs, a tribunal has ruled.
The duo, named by the London South Employment Tribunal as Mr Bennett and Mr Day, both left the South London firm in 2019 after spending about two years working there.
Both claimed, in echoes of another tribunal case against Sparta Global, that Geeks had unlawfully withheld thousands from their final paycheques for unjustifiable training costs – but Employment Judge Corinna Ferguson ruled that the company acted correctly.
Both men were taken on as inexperienced trainees (Day as a project manager, Bennett as a trainee software developer) and Geeks charged them proportionately for their training, the tribunal ruled – even though the two said most of their training was "self-learning" on Geeks' proprietary M# development environment.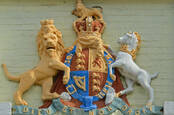 'Best tech employer of the year' threatened trainee with £15k penalty fee for quitting to look after his sick mum
READ MORE
Rejecting this, Judge Ferguson said in her February judgment (published this week) that neither man had "raised concerns or complaints about the quality of their training until they were considering leaving."
The judge, who sat alone to hear the case*, added: "The Respondent offers a highly technical service, of which neither Claimant had any prior experience. It is not credible that the Respondent would permit employees in the Claimants' position to work from day one effectively under their own steam and without close additional supervision."
Unlike Sparta Global, Geeks had properly itemised its training costs – and, crucially, they did not include a "penalty clause" designed to trap employees into an unbalanced working environment. If the judge ruled they were an unlawful restraint of trade, she could have voided the employment contracts and ordered the company to reimburse the money it withheld from its two ex-employees.
Please stump up or we'll garnish your final paycheque
Day resigned from Geeks in April 2019, telling the tribunal he would have quit sooner if he "had been able to afford to repay the training costs." These were explained in a contract he signed alongside his main employment contract when he joined Geeks in 2017: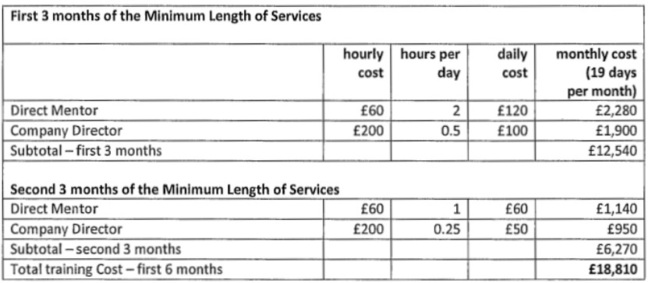 Geeks Ltd's schedule of training costs for Mr Day, as he signed to accept in 2017
The company director was included as a line item for "Analysing, deciding and implementing strategies for correcting your mistakes on projects including intervening the relationships with your allocated clients" [sic] and "Dealing with the side effects of your mistakes internally and externally."
After six months the debt would be "reduced by 1/24th per subsequent complete month" over the following two years, meaning the minimum period to be debt-free after signing the contract and without quitting Geeks was 30 months in total. Money was not taken from salaries as repayments; rather, Geeks shrank the training debt over time.
Bennett's training debt was almost identical, though he wasn't being billed for a director's mentorship, so he owed £15,900 instead of Day's £18k.
Day, who was on a guaranteed pay scale that saw his salary rise from £23k to £28k during his first three years, secured a £2,000 payrise for year three after praising Geeks' "training and opportunities" for giving him "invaluable experience and skills." Bennett, meanwhile, quit for another junior software dev job in May 2019. He went from a year three salary of £23k at Geeks to a £35k post elsewhere.
Was it fair? Yes, said judge
Paymon Khamooshi, one of Geeks' directors, wrote separately to each man after they quit saying they owed about £3,000 in training costs. If they couldn't pay the whole sum at once he offered them a payment plan. Both disputed the quality of their training; Geeks eventually withheld about £2,000 from each man's final paycheques.
Judge Ferguson, mulling over decades-old employment law precedents while deciding the case, quoted eminent 1970s judge Lord Diplock who boiled down the legal complexities of penalty clauses to a question of fairness:
The test of fairness is, no doubt, whether the restrictions are both reasonably necessary for the protection of the legitimate interests of the promisee and commensurate with the benefits secured to the promisor under the contract. For the purpose of this test all the provisions of the contract must be taken into consideration.
Ruling in Geeks' favour, Judge Ferguson said: "I accept that the level of the training cost debt was such that there would have been a very strong disincentive to leave the Respondent straight after the training period, but this was a legitimate way for the Respondent to protect the investment it made in taking on the Claimants in training roles... The sliding scale by which the debt reduced over time meant that the debt remained linked to the Respondent's interest in protecting its investment."
Geeks did break the law by failing to properly itemise Day and Bennett's final paycheques to show the training cost deductions. The judge declared that this had happened – but declined to award that money back to the two. ®
*Usually employment tribunals sit with a legally qualified judge, an employer and an employee (i.e. trade union) representative as a three-strong panel to decide its cases. Increasingly often, judges now sit alone.