This article is more than 1 year old
Website maker Wix embarks on weird WordPress-trashing campaign, sends 'influencer' users headphones from 'WP'
'Creepy' videos liken CMS giant to 'absent, drunken father' – but its market share is only rising
Hosting company Wix is apparently running a bizarre campaign in an attempt to win over WordPress customers, causing WordPress founder Matt Mullenweg to accuse Wix of "dirty tricks."
WordPress is the content management system giant, with a 64.7 per cent market share and used in some measure by 40.9 per cent of active websites, according to W3Techs. Wix by contrast has a 2.4 per cent market share, though that is enough to place it fifth, behind Squarespace but above Drupal.
Wix kicked off its new campaign by apparently sending expensive Bose noise-cancelling headphones to selected people they considered to be influencers – the odd thing being that the gift was marked "Yours WP," though the sender was Wix.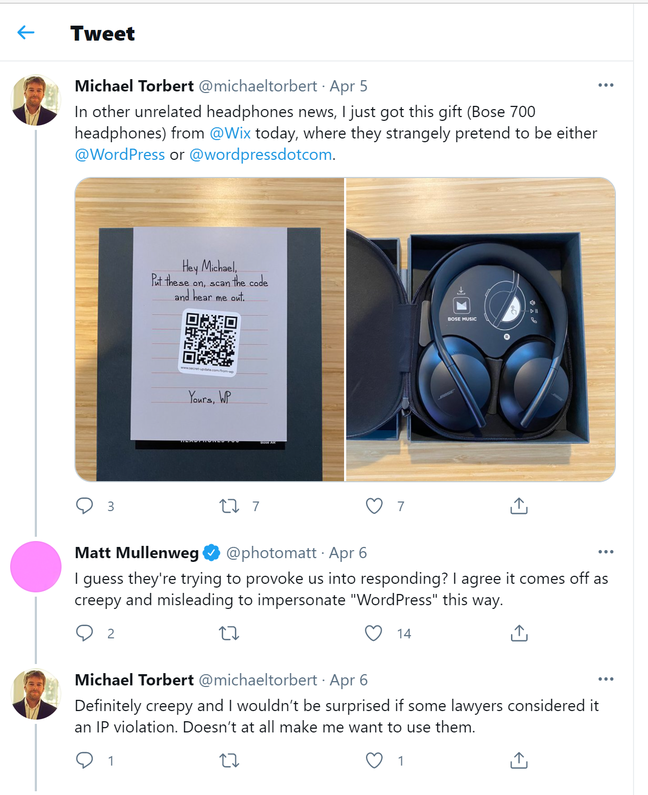 Click to enlarge
A QR code on the package linked to a video in which a spoof WordPress guy complains that "Wix is coming up with a campaign trashing me."
The gift caused confusion, with some recipients thinking they were from WordPress and others simply bemused. "Definitely creepy and I wouldn't be surprised if some lawyers considered it an IP violation. Doesn't at all make me want to use them," said one Michael Torbert.
Mullenweg responded with a post on his personal site entitled "Wix and Their Dirty Tricks".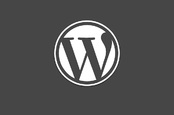 Shots fired! WordPress's Matt claims Jamstack's marketing is 'not intellectually honest' in debate with Netlify's Matt
READ MORE
In the post, he recalls an earlier episode in which Wix was found to be using WordPress code which was GPL licensed. Mullenweg also linked to another video in the Wix campaign, in which the same actor represents WordPress as an absent father who is unstable "sometimes when I press the update button."
It's all rather odd and Mullenweg speculated that the company was "trying to provoke us into responding... I can't tell if trying to get a cease and desist letter is part of their strategy to try and drum up press. Unethical, tacky behavior from an unethical, tacky company."
Open and shut case
Mullenweg noted that Wix is not only closed source, but also lacks any means for users to export content. "Wix does not support the exporting of files created using Wix to an external destination or host. All Wix creations are hosted on Wix's servers," says the documentation.
"Philosophically, I believe in open source," said Mullenweg, "and if WordPress isn't a good fit for you there are other great open source communities like Drupal, Joomla, Jekyll, and Typo3. We also have a great relationship with some of our proprietary competitors, and I have huge respect for the teams at Shopify and Squarespace, and even though we compete I've always seen them operate with integrity and I'd recommend them without hesitation."
He added that Squarespace supports exporting into WordPress format.
In October last year Mullenweg faced Netlify CEO Matt Biilmann in a debate about whether the Jamstack approach taken by Netlify is superior technology to traditional PHP-based frameworks like Wordpress, as we reported here. Despite Biilmann's arguments, WordPress has proved resilient, and its market share has increased since then, according to W3Techs, which said in February that "40 per cent of the web uses WordPress."
We have asked Wix for comment. ®