This article is more than 1 year old
Texan's alleged Amazon bombing effort fizzles: Militia man wanted to take out 'about 70 per cent of the internet'
Someone hasn't heard of redundancy
The US Justice Department on Friday announced the arrest of Seth Aaron Pendley, 28, for allegedly planning to blow up a single Amazon data center in Ashburn, Virginia, which he thought would knock out around 70 per cent of the internet.
Pendley, the feds said, was arrested on Thursday after supposedly trying to buy explosives from an undercover agent in Fort Worth, Texas. He came to the attention of authorities after someone alerted the FBI on January 8, 2021 – two days after the violent US Capitol insurrection – to troubling statements posted by the suspect to MyMilitia.com, a forum for organizing militia groups.
Pendley's Facebook account, it's claimed, shows his boasting about participating in the protests in Washington, DC, on January 6. He's said to have told friends in private messages that he didn't enter the Capitol building but did manage to reach a platform outside where he took a piece of broken glass and "interacted" with the police.
"We are indebted to the concerned citizen who came forward to report the defendant's alarming online rhetoric," said Acting US Attorney Prerak Shah, in a statement. "In flagging his posts to the FBI, this individual may have saved the lives of a number of tech workers."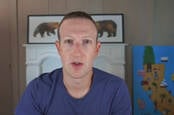 Zuck says Facebook made an 'operational mistake' in not taking down US militia page mid-protests. TBH the whole social network is a mistake
READ MORE
According to the Justice Department, a user using the screen name "Dionysus" announced plans to "conduct a little experiment" that would "draw a lot of heat" and might be "dangerous." Asked by another forum participant about the desired goal, Dionysus responded "death."
The tipser who turned Pendley in is said to have provided authorities with the poster's email address, which was registered by Pendley.
The Justice Department said Pendley began using encrypted messaging app Signal in January to communicate with another confidential source. This person told the FBI that Pendley allegedly said he planned to use C-4 explosives to attack a major company's data center in an effort to "kill about 70 per cent of the internet."
It didn't work out that way. The confidential source introduced Pendley to a supposed explosives supplier who was actually an undercover FBI agent.
The government claims it has recorded conversations of Pendley describing an attack on web servers he believed supported the FBI, CIA, and other federal agencies. He allegedly said he hoped to bring down "the oligarchy" running the United States.
Pendley was supposed to pick up his explosives on April 8. He got inert devices instead and then he got arrested by the FBI. If convicted, Pendley faces up to 20 years in prison.
In an email to The Register, an Amazon spokesperson expressed gratitude for the government's intervention.
"We would like to thank the FBI for their work in this investigation," Amazon's spokesperson said in an emailed statement. "We take the safety and security of our staff and customer data incredibly seriously, and constantly review various vectors for any potential threats. We will continue to retain this vigilance about our employees and customers." ®