This article is more than 1 year old
Vietnam reveals state-run Alibaba-and-Amazon alternative, aims it at the EU
Government hopes to cash in on free trade agreement with B2B e-commerce
Vietnam has launched its own e-commerce platform to help in-country businesses access European Union markets.
Vietnam wants the platform to help it take advantage of EU-Vietnam Free Trade Agreement (EVFTA), which in 2020 eliminated most tariffs and lowered regulatory barriers between Vietnam and the European bloc.
Vietnam also fancies operating a trading platform of its own. Noting a pandemic-inspired boost in e-commerce during 2020, deputy minister for industry and trade Cao Quoc Hung said at the platform's launch that Alibaba and Amazon had helped "micro-sized enterprises and business households to export their products, which seemed to be impossible in the past."
He added that Vietnam now needs "breakthroughs in assisting Vietnamese businesses in getting access to foreign markets such as the EU."
The minister said the state hoped to create "a complete digital ecosystem, helping businesses to make trading activities on a single platform" and to deliver one such platform for all of Vietnam.
The platform will therefore offer Vietnamese products for sale, and offer online payment facilities, logistics assistance, e-invoicing and digital signatures.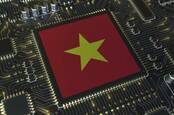 New t-shirt slogan: 'My job was outsourced to an Indian company that moved it to Vietnam'
READ MORE
Why not use Amazon or Alibaba, which are already very good at B2B and B2C sales? The latter is Chinese, and Vietnam competes with its giant neighbor for foreign investment. Keeping things in-house means more money stays in-country, and reduces the risk of doing business with an entity that has huge market power and is bound to follow the diktats of China's government. Amazon poses less urgent strategic challenges, but using its marketplaces means Jeff Bezos takes a cut.
Vietnam state media reported that the EU is already one of Vietnam's leading trade partners, with two-way trade reaching $56.45 bn in 2019, including $41.5bn worth of Vietnamese exports. According to the European Commission, country is the EU's 17th trade-in-goods partner.
By way of contrast, China is the EU's biggest source of imports and its second-biggest export market, exporting €362bn to the bloc and importing €198.3bn from it.
The new marketplace platform is a joint project between the Vietnam Institute of Digital Economy and Management Science (VIDEM) and the MOIT's Department of e-Commerce and Digital Economy. It was signed into existence in late March. ®