This article is more than 1 year old
China whacks Alibaba with US$2.8bn fine for breaking antitrust rules
Alibaba takes it on the chin, apologises, promises to do better (and maybe feels it got off lightly with fine of 4% of revenue)
Alibaba has humbly accepted that it broke China's antitrust laws and will pay a colossal fine.
Chinese authorities fined Alibaba Group US$2.77bn on Saturday, the largest antitrust penalty Beijing has ever issued. The fine represents four percent of Alibaba's most recent full-year earnings.
China's State Administration for Market Regulation (SAMR) issued a statement detailing Alibaba's transgressions and its investigation.
"Since 2015, Alibaba Group has abused its dominant position in the market and has imposed 'choose one out of two' requirements on merchants on the platform," said SAMR.
SAMR said Alibaba's rules prohibited merchants from opening stores or participating in promotional activities on rival platforms. SAMR also claimed Alibaba used market forces, platform rules and data, algorithms, and a variety of rewards and punishment measures to gain an unfair advantage.
Alibaba did not dispute the facts or contest the fine.
"We accept the penalty with sincerity and will ensure our compliance with determination," said the letter on Alibaba's company news website.
The letter described internet platform economies as "new economic structures created out of the latest cycle of technological revolution" and therefore ahead of regulation
Alibaba stated:
Today, Internet platform economies have entered an entirely new phase. They are an integral part of people's everyday life and affect all dimensions of the broader economy.
It is not lost on us that today's society has new expectations for platform companies, as we must assume more responsibilities as part of the nation's economic and social development.
In addition to the fine, the e-commerce giant was given 15 days to deliver a report explaining to SAMR how it will correct its violations, then submit three annual self-evaluating compliance reports. Public disclosure of its compliance efforts was strongly recommended.
On a conference call today, CEO Daniel Zhang said he did not expect any material impact from the forced changes to Alibaba's exclusivity arrangements. While this initially seems like a placating statement, it comes with some credibility given Alibaba's growth: between 2015 and 2019, Alibaba's average annual growth rate was 24.1 percent and the Taobao and Tmall services it operates account for over 50 percent of the total online retail merchandise transactions in China.
China commenced investigations of the e-commerce giant's business strategies in December 2020. In March, the group was told to sell some of its media assets due to the breadth of their influence and had its UC Browser removed from app stores due to unfair play.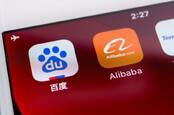 China's competition agency floats Internet-age anti-monopoly law upgrade
READ MORE
The company's compliance stands in stark contrast to last October, when the company's billionaire founder, Jack Ma, was publicly critical of Chinese regulations after the IPO of Ant Group was cancelled by Beijing. He then mysteriously dropped out of public view for almost three months.
Alibaba isn't the only Chinese company to face antitrust scrutiny and penalties. In March, SAMR fined twelve companies, including tech giants Baidu, Did Chuxing and major Alibaba competitor TenCent, for actions spanning ten deals. ®