This article is more than 1 year old
United States' plan to beat China includes dominating tech standards groups – especially for 5G
'Strategic Competition Act' calls for appointment of a new ambassador-at-large for tech
America's plan to compete with China includes a call for the land of the free to dominate tech standards bodies, especially for 5G, and to appoint an ambassador level official to lead a new "Technology Partnership Office" that Washington will use to drive tech collaboration among like-minded nations.
Released last Thursday by the Senate Foreign Relations Committee, and expected to have bipartisan support, the draft Strategic Competition Act of 2021 offers 281 pages of policy aimed at "ensuring the United States is postured to compete with China for decades to come," in the words of ranking member US Senator Jim Risch (R-Idaho).
The bill [PDF] devotes a section to "digital technology and connectivity," the first item of which is a "statement of policy on leadership in international standards setting," as follows:
It is the sense of Congress that the United States must lead in international standard-setting bodies that set the governance norms and rules for critical digitally enabled technologies in order to ensure that these technologies operate within a free, secure, interoperable, and stable digital domain.
The document also calls for the creation of a new Technology Partnership Office in the State Department, led by a new Ambassador-at-Large for Technology with full ambassadorial rank and the job of harmonizing technology governance and co-ordinating R&D around key technologies, including:
Artificial intelligence and machine learning;
5G telecommunications and other advanced wireless networking technologies;
Semiconductor manufacturing;
Biotechnology;
Quantum computing;
Surveillance technologies, including facial recognition technologies and censorship software;
Fibre optic cables.
On 5G, the bill calls for the USA to lead future standards developments and standards bodies and orders an assessment of "the differences in the scope and scale of China's engagement at such bodies compared to engagement by the United States or its allies and partners and the security risks raised by Chinese proposals in such standards-setting bodies."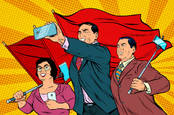 China proposes 'Global Initiative on Data Security' forbidding stuff it and Huawei are accused of doing already
READ MORE
Other policies in the document include:
An international effort that utilizes all of the economic and diplomatic tools at its disposal to combat the expanding use of information and communications technology products and services to surveil, repress, and manipulate populations (also known as "digital authoritarianism");
Creating a "digital trade agreement … relating to digital goods with the European Union, Japan, Taiwan, the member countries of the Five Eyes intelligence-sharing alliance, and other nations, as appropriate";
"Formation of a 'Digital technology trade alliance … relating to digitally enabled technologies and services";
Creation of a new Digital Connectivity and Cybersecurity Partnership through which the USA will "promote the diversification of ICT goods and supply chain services to be less reliant on Chinese imports," and to "promote exports of United States information and communications technology (ICT) goods and services and increase United States company market share in target markets."
The bill proposes an annual budget of US$100m each fiscal year from 2022 to 2026 to get the job done.
While the proposed act is expected to gain bipartisan support, it is far from certain to pass in its current form. The bill does, however, accord with the Biden administration's goals to set America up for ongoing success even as China becomes richer, more sophisticated and a bolder international actor.
Whether the world is ready for the USA to lead all the efforts mentioned above is another matter. European nations already have a big stake in 5G and may not appreciate American leadership, while many entities that operate beyond the USA quite enjoyed the Internet Assigned Numbers Authority moving beyond solely Uncle Sam's control. ®