This article is more than 1 year old
After years of dragging its feet, FCC finally starts tackling America's robocall scourge
New law implementation, cease-and-desist letters, and mobile companies asked to detail free blocking tools
The FCC is finally taking concrete action on the scourge of robocalls after years of dithering on the issue.
In an announcement on Tuesday, America's telecoms watchdog said it had written to cellular network operators asking them to detail the free robocall blocking tools they provide to consumers. It also released two cease-and-desist letters against two robocalling hosts and said it would track the agency's actions in implementing a new anti-robocall law.
Just as with an announcement yesterday pushing an internet speed measuring app, the measures taken are soft, rather than strong enforcement, but indicate a clear shift in priorities under the FCC's new chairwoman Jessica Rosenworcel.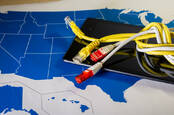 New FCC boss leaps into action by… creating three committees to look at longstanding problems and come back at some point
READ MORE
By requiring mobile companies to detail the free tools they offer, it provides the FCC with information that it can use later to strengthen enforcement: mobile companies can in fact block most robocalls but choose not to, in large part because it costs money to do so and at the same time they make money from those calls.
The FCC in many cases is only able to use its considerable powers once it has produced a report outlining clear problems. In this case, a Call Blocking Report is due later this year and the companies have been told to provide information on free blocking tools and details on how they measure the effectiveness of those tools by April 30 to fit into the new report.
Most mobile companies offering some kind of free blocking but it is often limited and better options are only available for an additional fee and are not heavily advertised. The result is that most consumers either don't know or won't pay for the service, despite robocalls having been the number one consumer complaint lodged with the FCC for several years in a row.
Go slow
Former FCC chair Ajit Pai was repeatedly criticized for talking a good game when it came to robocalls but persistently failing to take concrete action; he was always receptive to industry arguments that had the effect of constantly delaying actual enforcement.
The cease-and-desist letters were sent to Florida company Tellza and Ohio firm R Squared Telecom - two companies most Americans will never have heard of - but they represent firm action against companies that appear to be knowingly hosting robocalls.
"We have determined that R Squared Telecom LLC (R Squared) is apparently transmitting illegal robocall traffic on behalf of one or more of its clients," reads one of the letters [PDF]. "You should investigate and, if necessary, cease transmitting such traffic immediately and take steps to prevent your network from continuing to be a source of apparently illegal robocalls."
It gives the company 48 hours to respond and 14 days to fix the problem or face being cut off from the larger phone network: "Failure to act within the deadlines may result in the commission issuing a notice to all US-based voice service providers that they may permanently block ALL call traffic transmitting from your network." That would effectively kill the company's business as people would not be able to use their phones.
Efforts
And lastly, FCC will finally get on with a website detailing call blocking tools, whitelists and enforcement actions. This was authorized in the Telephone Robocall Abuse Criminal Enforcement and Deterrence Act (TRACED Act), which was signed into law on December 30, 2019. The webpage hasn't gone live yet.
"The new webpage outlines the agency's progress in using its strengthened enforcement authority, progress on updated call blocking rules, and steps taken to implement new Caller ID authentication technology. It also details the agency's work to address one-ring scams, protect hospitals from illegal robocalls, and establish a reassigned numbers database," the FCC explained.
All of which means that the FCC is finally doing its job and we should start to see a gradual reduction in the billions of robocalls that those living in the US have to deal with every year. ®