This article is more than 1 year old
Who'd have thought the US senator who fist pumped Jan 6 insurrectionists would propose totally unworkable anti-Big Tech law?
This one seems as well thought-out as his Capitol rally salute
US Senator Josh Hawley (R-MO) has proposed his latest anti-Big Tech legislation: a complete ban on mergers and acquisitions for companies valued at over $100bn if it may harm competition in any way possible.
The "Trust-Busting for the Twenty-First Century Act" [PDF] will "take back control from big business and return it to the American people," the senator announced, and it will "crack down on mergers and acquisitions by mega-corporations and strengthen antitrust enforcement to pursue the breakup of dominant, anti-competitive firms."
The law is intended to put constraints on Apple, Google, Facebook, and Amazon – in keeping with Hawley's political brand of attacking tech companies – and he provides examples of actions that would be prevented, such as Google purchasing Waze and incorporating into its Maps app.
It would also give the FTC the power to ban "dominant digital firms" from acquiring potential rivals, and reform the two main antitrust acts (Sherman and Clayton) to – theoretically – make antitrust actions against tech titans easier. In addition, offending businesses could be fined all of the profits from any products or actions later found to be anti-competitive.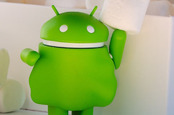 What does everyone make of today's Google antitrust action? Only the stock market is happy with the status quo
READ MORE
Hawley's headline blunt tool of an arbitrary cap of $100bn would apply not just to Big Tech but also McDonalds, Disney, Pepsi, Walmart, Bank of America, Johnson & Johnson, and roughly 150 more, all effectively prevented from buying or merging with other companies.
The law, were it to pass, would effectively bypass the Department of Justice, and introduce a success-based constraint on American capitalism based on a figure that Hawley has pulled from his ass. He thinks it's great.
"A small group of woke mega-corporations control the products Americans can buy, the information Americans can receive, and the speech Americans can engage in," Hawley quotes himself as saying in his announcement. "These monopoly powers control our speech, our economy, our country, and their control has only grown because Washington has aided and abetted their quest for endless power."
Right...
There's more: "While Big Tech, Big Banks, Big Telecom, and Big Pharma gobbled up more companies and more market share, they gobbled up our freedom and competition. American consumers and workers have paid the price. Woke corporations want to run this country and Washington is happy to let them. It's time to bust up them up and restore competition."
Hawley hasn't always been this stupid; it's clearly taken practice. He successfully ran for Attorney General of Missouri, thanks in large to financial support from none other than Peter Thiel, but only stayed in the office two years before he saw an opportunity to get into Congress. In order to get ahead of the field of 11 Republican candidates for the job, he allied himself with Donald Trump and embraced the former president's particular style of aggressive ignorance, and it paid off.
When in the Senate, however, Hawley adopted a more rational approach, teaming up with congressional colleagues to put forward legislation, most of it focused on attacking Big Tech.
He cosigned the Augmenting Compatibility and Competition by Enabling Service Switching (ACCESS) Act, which would have required companies like Google and Facebook to create and maintain open interoperability software interfaces. He backed the Eliminating Abusive and Rampant Neglect of Interactive Technologies Act (EARN IT) that had the ostensible purpose of combating child sexual abuse material online – at the cost of encryption. He had his own Section 230 bill called the Ending Support for Internet Censorship Act. None of those laws made much headway but the approach was at least constructive and based in reality.
Here we go...
Then came President Trump's reelection campaign and, in an effort to curry favor and political support, Hawley went all in on the ex-reality telly star's baseless lies about the 2020 election being stolen. The senator was the first to announce that he would object during the Electoral College certification process in Congress, defying the Senate Majority Leader Mitch McConnell (R-KY).
On the day itself, January 6, Hawley made a point of appearing in the front of the Capitol and giving an encouraging fist pump to the crowds that had gathered for a rally organized by President Trump: an image that immediately came back to haunt him when that same crowd stormed Capitol Hill shortly after in a failed insurrection bid and led to the emergency shutdown and evacuation of Congress.
His colleagues also had some choice words for Hawley, publicly labeling him a "dumbass" and calling for him to be censured. His supporters also abandoned him, with one calling him a "political opportunist" and "irresponsible." Another – a Missouri lawmaker – said supporting him was "the worst mistake of my life." And the Kansas City Star, which had endorsed him as senator, wrote in an editorial about the Capitol ransacking that his "actions in the last week had such impact that he deserves an impressive share of the blame for the blood that's been shed."
And so Hawley returned to his anti-Big Tech legislative agenda and produced this: a "trust-busting" Act that would constrain all of America's largest corporations under the Trumpian logic that they are "woke."
The bill has zero chance of passing which is perhaps why the first-term senator has failed to get any cosponsors for it. ®