This article is more than 1 year old
Intel offers to produce car chips for automakers stalled by ongoing semiconductor supply drought
Also, President Biden hosts meeting to mull over silicon shortage
Intel has offered to fabricate chips for cars within the next six to nine months to help automakers brought to their knees by the ongoing global semiconductor shortage.
The move comes as President Biden hosted a virtual meeting with business leaders from the hardware and auto industry on Monday, including Intel's CEO Pat Gelsinger.
In a separate interview with Reuters, Gelsinger said Intel was in talks with suppliers to produce microelectronics for vehicles sooner rather than later.
"We're hoping that some of these things can be alleviated, not requiring a three or four-year factory build, but maybe six months of new products being certified on some of our existing processes," the chief exec said. "We've begun those engagements already with some of the key components suppliers."
Intel was not immediately available for further comment.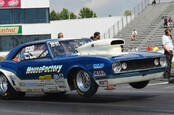 Sitting idle while global chips fry: US car industry asks Biden to earmark cash for automotive semiconductors
READ MORE
The ongoing COVID-19 pandemic temporarily closed some factories, and a huge backlog of chip orders built up as fabrication plants were flooded with demand for components for laptops, cloud servers, phones, and other devices as millions shifted to working or studying at home.
Essentially there are three elements causing the drought: a lack of silicon wafers and packaging materials, and a lack of available fabrication plant capacity.
Now the auto and healthcare industries are feeling the crunch, with General Motors and Ford announced pauses in production. Vehicle makers were particularly hit hard because, as the pandemic took off, car and truck sales fell and so factory lines slowed and orders for electronics and other parts were put on hold. Now, things are picking up again but chip fabs are busy churning out components for other industries, leaving automakers screwed.
In a way, this offer by Intel – which is trying to rejuvenate its foundry business, don't forget – is the semiconductor world saying to the auto industry: oh, so now you want some microchips?
Without these vital components, it's impossible to install things like power steering, and braking, fuel economy, and infotainment systems in new cars. Elsewhere around the world, Toyota and Honda have been similarly impacted too.
The ongoing nature of the crisis has got the attention of the US President, who said today steps need to be taken to improve the situation albeit without going into specifics. At his industry meeting, President Biden said securing America's chip supply was a matter of national importance, since China and others were doing just this and the United States risked being left behind, adding this must "never again" be an issue.
"Chips, broadband, batteries, it's all infrastructure," he said. "We need to build the technology of today, not repair the one of yesterday. We led the world in the middle of the 20th Century, we led the world towards the end of the century, and we're gonna lead the world again."
Biden previously urged Congress to spend $50bn on American semiconductor R&D and manufacturing, and signed an executive order in February promising to review choke points in the nation's supply chains. Meanwhile, executives from chip companies have called for tax credits to build and staff more chip plants on US soil. ®