Northrop Grumman's MEV-2 gives Intelsat satellite a new lease on life until the next rescue in another five years
After 17 years into a 13-year mission, that's not bad
Northrop Grumman's second Mission Extension Vehicle (MEV) has docked with Intelsat's IS-10-02 satellite, potentially extending the life of the latter by five years.
Launched in 2004, IS-10-02 delivers broadband and media services over Europe, the Middle East, Africa, and South America. Half of its Ku band payload is owned by Telenor Satellite, which contributed to the MEV mission.
Dubbed MEV-2, the spacecraft's mission differed from last year's successful demonstration with Intelsat's IS-901 satellite. This time around the docking occurred directly in the satellite's operational GEO orbit location, a first for the MEV fleet.
The MEV will remain grappled to the Intelsat spacecraft, providing attitude control and orbital maintenance for up to five years before heading off to deal with another soon-to-be-stricken satellite. The 5,575kg IS-10-02 is nearly 17 years into a 13-year mission and so was ripe for rescue.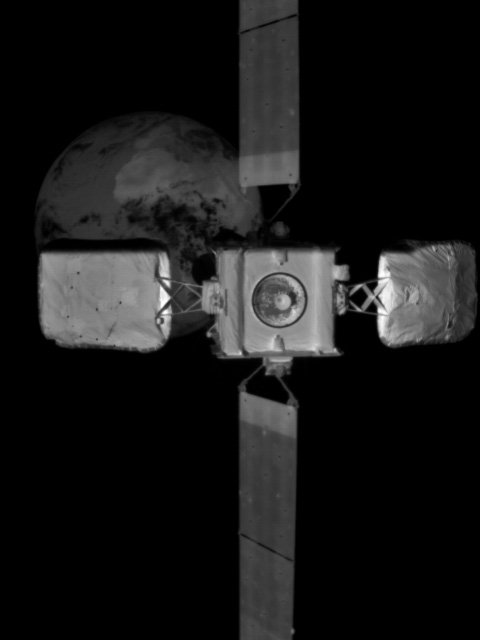 An image of Intelsat 10-02 taken by MEV-2's infrared wide field of view camera at 15m away (pic: Northrop Grumman)
Intelsat chief services officer Mike DeMarco paid tribute to Northrop Grumman's MEV technology, and said it had "helped us extend the life of two high-performing satellites" before describing it as a "win-win." Certainly, keeping the lights on a bit longer and putting off the expensive moment when a replacement must be launched is a double benefit.
Tom Wilson, vice president for Northrop Grumman's Strategic Space Systems division and president of SpaceLogistics LLC, said: "... this mission paves the way for our second generation of servicing satellites and robotics, offering flexibility and resiliency for both commercial and government satellite operators, which can enable entirely new classes of missions."
As well he might.
Northrop Grumman scored an award last year from DARPA which would see the company applying its robotic smarts to servicing missions that could inspect, repair, and augment both commercial and government satellites via its Mission Robotic Vehicle (MRV). Mission Extension Pods (MEPs) are also on the cards to extend the life of aging satellites.
The company is targeting 2024 for launch of both the MRV and the initial MEPs. ®