This article is more than 1 year old
Microsoft's Surface Laptop 4 now includes AMD options for biz customers, boasts up to 19 hours of battery life
Surface Headphones 2+ also available and a range of 'Modern' kit coming in the next few months
Microsoft has opened the order books on the fourth generation of its Surface Laptop, replete with Intel-baiting AMD chippery in the line-up.
Blessedly free of an overexcited Microsoft bigwig describing himself as "pumped" at the sight of some relatively pedestrian hardware, Microsoft's Surface Laptop 4 has arrived in 13.5 and 15-inch guise with a variety of Intel and AMD silicon to choose from.
The new AMD chips are an important update; previously, consumers could select a Surface Laptop 3 not powered by Intel, but businesses were directed Chipzilla's way. This time around a range of updated Intel and AMD silicon is on offer to both customer types.
As for the laptops themselves, there is a near bewildering array of configuration options available. Either an 11th-gen Intel Core processor (i5 or i7) or AMD Ryzen Mobile Processor with Radeon Graphics can be picked, the latter dubbed "Microsoft Surface Edition." Storage can be specified to a maximum of 32GB LPDDR4x RAM with up to a 1TB SSD for the well-heeled. And claimed battery life is now up to 19 hours for AMD Ryzen 5 kit and 17 hours for Intel's i5.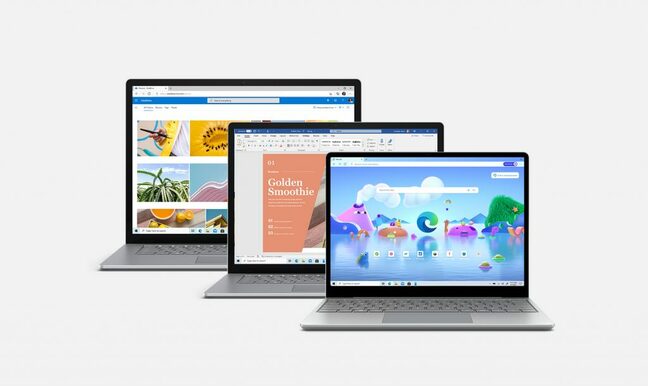 Surface Laptop 4 line-up
The usual caveats apply, but one has to wonder when confronted with battery lives this long, what's the point in having something like the Surface Pro X?
There remains a paucity of ports; a single USB-C and USB-A along with a Surface connector and 3.5mm headphone jack are present on the sides. The SSD is swappable by a technician skilled in the art of the screwdriver. As are the keyboard and display covers "by authorised service centres" – handy in case that glossy touchscreen should mysteriously crack.
The PixelSense 201 PPI screen (2256 x 1504 on the 13.5-inch model and 2496 x 1664 on the 15-inch) retains a useful 3:2 ratio and Microsoft has tweaked both the audio and camera of the device with a nod to the ever-increasing need for virtual meetings and online conferencing. The company claimed the updated camera works well in low-light scenarios and the studio mics should pick up the majority of utterances.
Hidden beneath the keyboard and bouncing sound off the screen are Dolby Atmos Omnisonic speakers.
The Surface Laptop remains a neat bit of kit, and the inclusion of more AMD options could well lead to a sleepless night or two at Chipzilla. However, despite an extra colour in the line-up (Ice Blue), it lacks any particular standout feature and with a price that starts at $999 (for a 13.5-inch model powered by an AMD Ryzen 5 chip with 8GB RAM) is still an expensive option.
Still, if US customers order one from Microsoft's own site or Bestbuy in the next few weeks, the company will throw in a set of its bizarre-looking Surface Ear Buds. Alternatively, one can wield the credit card once more and pick up an updated set of Surface Headphones 2+ (now certified for Microsoft Teams) for a mere $299.
Not yet available but due in the coming months is the long-awaited Modern Webcam with 1080p video and a privacy shutter for $69.99. A "Modern Headset" is also due in June with a price point of $49.99, and spending $99.99 will equip lucky workers with their own "Modern" USB-C speaker which "will give you high-quality audio for meetings, calls and casual music listening."
As for the new Surface Laptop 4, it can be ordered today in the US, Canada, and Japan. Other markets are due "in the coming weeks." UK customers should be able to get theirs by 27 April, starting at (you guessed it) £999. ®