The UK government is on the hunt for a supplier to support and maintain the software behind its controversial Clean Air Zone (CAZ) policy in a tender that could result in a £22m contract.
In February 2016, the Department for Environment, Food and Rural Affairs and the Department of Transport formed a Joint Air Quality Unit (JAQU) to help tackle NO2 (nitrogen dioxide) pollution in UK cities.
NO2 pollution resulting from the diesel exhaust of cars, trucks, buses, and vans in cities can trigger and exacerbate existing asthma symptoms, or may lead to the development of asthma over longer periods of time. Additionally, it reacts with sunlight to form ozone, which is also damaging to the lungs.
The government's CAZ policy targets areas where it aims to cut this damaging pollutant, as well as reduce particulate matter. The policy includes a changing scheme to make drivers or operators of polluting vehicles pay to enter certain restricted areas.
The CAZ central service being implemented is made up of a software system, a customer-facing contact centre (from the DVLA), and penalties and enforcements (managed by local authorities).
With the current contract expiring in 2021, the Secretary of State for Transport requires a supplier to provide support and maintenance services.
In 2018, JAQU awarded a £450,000 contract to developer Informed Solutions to build software to take data from automated number plate recognition (ANPR) cameras to determine whether a vehicle entering a CAZ is compliant with emissions standards and, if not, how much it should be charged. It would also allow motorists of transport operators to pay charges.
This time last year, an ANPR system aimed at enforcing a CAZ turned out to be a point of weakness in Sheffield, as The Register exclusively revealed. A Reg investigation at the time found that an unsecured ANPR management dashboard – ultimately meant to support the city's CAZ proposal – could have been used by anyone who found it to reconstruct a particular vehicle's journey, or series of journeys, from its number plate, right down to the minute. That system had been put together by American megacorp 3M several years back, with its current owners, Neology, saying it no longer managed the system at the time of the breach.
The new deal
In a recent contract notice, JAQU said the current contract comes to an end this year, which is why it is looking for a "Technical Delivery and Support Provider" to offer "a high-quality service to JAQU, local authorities, fleet operators, users and all other stakeholders of the CAZ Digital Solution."
The scope of the new contract, worth up to £22m, could include the transition of the existing digital solution, support and maintenance, technical delivery and development, as well as onboarding of local authorities. The contract is set to start in October.
In a blog published in March 2021, Informed Solutions said the central CAZ service is a national digital infrastructure running on AWS. Several services were already live, including the Vehicle Compliance Checker – a national GOV.UK service used by motorists to determine if they will be charged for driving into a CAZ.
"PaaS and SaaS AWS offerings have been used wherever possible to accelerate and de-risk delivery, maximise technical quality and minimise administrative and maintenance overheads," the blog said. "A serverless execution model is used to maximise the solutions' ability to scale elastically in response to changing demand. A loosely microservice-based architecture has been adopted so that it is possible to incrementally build, test and release the solution in an agile way."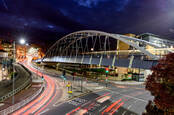 Nine million logs of Brits' road journeys spill onto the internet from password-less number-plate camera dashboard
READ MORE
Some authorities have begun procuring their own infrastructure. In July last year, the transport authority for Greater Manchester in northwest England published a tender for a vendor to build systems for ANPR, managing payments of fines and managing a database of vehicles' status under emissions regulations in a contract worth up to £235m.
No news of that award has been published. Transport for Greater Manchester has been contacted for comment.
Some councils have already gone live with their systems. A system in Bath has been launched which was said to have left local councillors' "blood boiling" because it pushed pollution to surrounding areas.
However, other systems have been delayed. Last year, Leeds and Birmingham were due to implement the first CAZs in England by the end of the summer, with Oxford's Zero Emission Zone to follow in December, according to an industry news site. ®