This article is more than 1 year old
UK watchdog blesses Virgin Media and O2's union, says there's no risk of market distortion or competition loss
Hard luck, BT
The UK's competition watchdog has provisionally cleared the proposed merger of Virgin Media and O2 after concluding it would not materially impact competition (and thus the price and availability of services) in the telecoms wholesale market.
The Competition and Markets Authority (CMA) started its more inquisitive second phase of the review in December following a request from O2 owner Telefónica and Virgin Media parent Liberty Global.
This review focused on whether the marriage of O2 and Virgin Media would give the combined company an incentive to degrade the standards of wholesale companies provided to other mobile networks and ISPs.
In the case of Virgin Media, the CMA cited its position as backhaul provider to other mobile networks, either through active leased lines or "dark fibre," as a potential area of concern. Backhaul refers to the lines used to connect masts to the carrier's core network. Although BT's Openreach is the dominant force here, other smaller providers (including Virgin and Community Fibre) have some presence.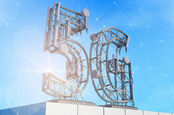 A bunch of also-RAN: Vodafone and O2 cosy up to share '5G-active' gear
READ MORE
Although Virgin Media runs a mobile network, it's merely an MVNO that piggybacks off Vodafone and EE's footprint. O2 is a completely different kettle of fish. It owns towers and spectrum, and all the infrastructure you'd expect from a fully fledged carrier. When judged against Virgin Media, O2 is a giant, with 36.2 million connections compared to just 3.27 million for VM across both prepaid and postpaid.
But this doesn't necessarily mean the merged entity would be inclined to start hiking up prices for vital backhaul services, or cutting off rivals altogether, the watchdog seems to have concluded.
As the CMA's report [PDF] noted, networks use a variety of providers, with the choice determined by things like the availability of coverage, as well as types of connections on offer. There are parts of the country that Virgin doesn't cover thus lines operated by rivals must be used.
Additionally, the backhaul space is heavily regulated by Ofcom, and most carriers enter long-term arrangements with fixed-line providers. The CMA also cited collaborations with carriers to share backhaul, with O2 enjoying a cosy sharing arrangement with Vodafone called Project Beacon.
Another area of interest was the potential impact on MVNOs. Although the UK has four main carriers (O2, EE, Three, and Vodafone), it has a vast magnitude more MVNOs, which resell access to these networks at a cut price.
Virgin Mobile is an example of this, using EE and Vodafone's infrastructure. Providers using O2's network include Giffgaff (also owned by Telefónica), LycaMobile, Sky Mobile, TalkTalk Mobile, and Tesco Mobile.
The CMA initially feared that the merged entity would be incentivised to degrade services on "fixed MVNOs," which consist of companies offering both fixed-line and mobile connections. And since the combined entity would offer both fixed-line and mobile networks, it may be incentivised to stop serving fixed MVNOs entirely, thus reducing competition further.
There aren't many examples of fixed MVNOs, besides Sky and TalkTalk. Still, the CMA noted that the likelihood of any shenanigans taking place is slim. For starters, MVNO customers tend to be "unbundled," using different providers for their fixed-line and mobile connections, even if the option to use a single provider exists.
Additionally, taking an aggressive stance against fixed MVNOs would likely be deeply unprofitable. There would be no guarantee that the combined entity would absorb any of the fixed MVNO's customers, particularly given Virgin has a comparatively limited geographical footprint when compared to Openreach. It would also lose a decent chunk of revenue from the MVNO itself.
In short: any victories against a client MVNO would likely be pyrrhic, costing the combined entity more than it gains.
Although the CMA has given the merger the nod, the authority has invited third parties to comment on these findings. The deadline for this is 5 May.
In a statement, Martin Coleman, CMA Panel Inquiry Chair, said: "Given the impact this deal could have in the UK, we needed to scrutinise this merger closely. A thorough analysis of the evidence gathered during our phase 2 investigation has shown that the deal is unlikely to lead to higher prices or a reduced quality of mobile services – meaning customers should continue to benefit from strong competition."
O2 had previously tried to merge with Three in a £10.25bn deal, but the buy was blocked by the European Commission over competition concerns.
Kester Mann, director of Consumer and Connectivity at CCS Insight, described the Virgin Media/O2 approval as "no surprise" and agreed with the report's overall conclusions.
Still, it's not good news for BT, which to date has been the UK's sole telecoms firm offering pay TV, fixed-line broadband, and a proper (non-NVMO) mobile network. If this deal ultimately goes through, BT will face competition on all fronts from a single competitor.
"For customers, the move marks the next step on the UK's journey toward bundled telecom services," Mann said. "The new company will seek to sell fixed-line and mobile services across both the Virgin and O2 brands, hoping to lock-in customers and drive higher spend."
This journey could conceivably include future mergers – with Vodafone, Three, and Sky all likely candidates. ®