This article is more than 1 year old
Dell to spin out remaining VMware stake, cements Friends With Benefits status for at least five years
'Market does not appreciate hardware/software combo' says Big Mike. So virty giant gets freedom, customers are promised no change
+Analysis Dell will spin out its stake in VMware, and the two companies will continue to operate without major changes for at least five years. Indeed, they said they plan to deepen their collaboration.
The proposed transaction has been pitched as delivering value for shareholders, both in the short term and once the two corporations have less complicated structures that will let them compete more aggressively.
On a conference call for investors, Dell founder and CEO Michael Dell emphasized the short-term benefits to shareholders. "As much as we grew the revenues of VMware, the market does not appear to appreciate a hardware/software combination," he said.
On Dell's phone call, and on VMware's conference call, investors were treated to many mentions that the transaction will ensure both companies are rated as "investment-grade," and therefore more likely to attract capital.
The deal includes a five-year agreement for the two businesses to essentially carry on as they do today, followed by automatic annual extensions of the deal unless one company calls it off. Dell will continue to resell VMware products – a critical arrangement for VMware as 35 per cent of its revenue comes from sales initiated by Dell, though one that Dell said it needs to work on because reselling VMware is currently a break-even effort.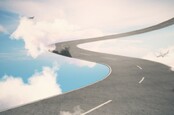 VMware builds narrow one-way road to move its crown jewels towards cloudy subscriptions
READ MORE
Products including VXrail and VMware Cloud on Dell EMC will remain unchanged. The two American tech titans will continue to collaborate on future offerings, we're assured.
In response to a pointed question about why Dell is offloading an asset that outgrows it, has higher margins, and is poised to grow cloud and subscription revenues, Dell execs responded that they see VMware as its best bet to create big-selling offerings in fast-growing fields, such as 5G and edge computing.
Dell execs described the deal binding the two companies as formalizing the arrangements that already exist. The pair will even continue to collaborate on marketing and set joint sales targets, because both believe going to market together is the most lucrative path to pursue.
The deal will see VMware pay a special dividend to its shareholders of between $11.5bn and $12.0bn. Over $9bn of that sum will flow to Dell because while Virtzilla is a listed entity, only 19 per cent of its stock is publicly traded. Dell holds the rest so gets the bulk of the dividend.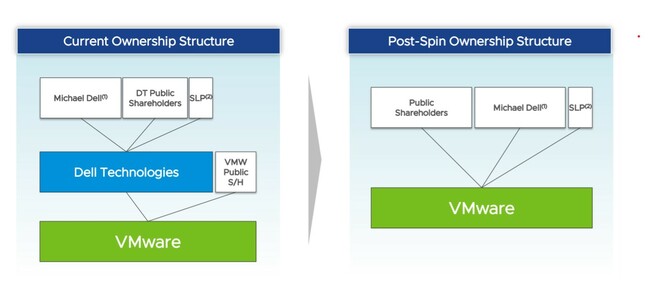 Click to enlarge
Dell will use the cash to retire some of its own debt and therefore reduce interest payments. VMware will take on debt to fund the dividend, as it only has $4bn cash at hand, and spend the next couple of years paying down debt as soon as possible.
Michael Dell keeps his seat on VMware's board and retains the right to appoint another director.
VMware interim CEO Zane Rowe told investors he believes the split will let the virtualization house use its equity more freely, either to pursue acquisitions or for other purposes. Changes to the structure of the company's shares also mean it can be listed in prestigious stock market indices, which tends to attract investors.
Customers hardly got a mention on either organizations' calls to investors, other than a few remarks about how the new arrangements will help deliver one's digital transformation dreams.
The announcement was made after markets closed. Dell shares popped eight per cent in after-hours trading. VMware rose 1.5 per cent. The deal is expected to close in the fourth quarter this year, but could be called off if it isn't done by early 2022, if either company backs out, or if things go pear-shaped in various ways.
Analysis
Gartner VP analyst Michael Warrilow, who covers VMware, told The Register that the hypervisor giant's core market is saturated, and the company has a "critical need to cement a role in the cloud-native future."
Today's announcement doesn't address either of those issues directly.
It may give VMware more ability to acquire companies, or build technologies, that improve its container-centric products. But the company's Tanzu portfolio is already sprawling and faces considerable and mature competition from a Red-Hat-fuelled IBM, plus cloud-native Kubernetes offerings from hyperscale clouds.
Those clouds are increasingly bringing their K8s offerings on-prem. IBM is already well and truly there. So VMware's hybrid cloud customer base is also at risk.
All of which means this transaction's promised payoff of a more flexible VMware, with Dell still in its pocket, will need to eventuate for the deal to be a success. ®
Bootnote
VMware interim CEO told investors the company's board continues to look for a CEO who can provide long-term leadership, seemingly ruling himself out of the job.