This article is more than 1 year old
Listen, son... Monster trucks just aren't cool anymore. Real winners drive Tesla Roadsters
Matchbox goes green with sustainably produced toys based on electric cars
Soon tots will be able to throw their toy cars at the 4K TV and claim it was Autopilot what did it, Daddy.
Tiny automobile purveyor Matchbox is changing tack from the petrol-guzzling steeds of yore to introduce a line based on real electric vehicles like the Tesla Roadster.
As if Tesla boss Elon Musk's head wasn't big enough already.
The idea is to present "an overall eco-friendly themed approach to play, with more e-vehicle product offerings and e-vehicle chargers in fuel station playsets," said US toy giant Mattel, the British brand's owner.
Not only is the company talking the talk, it's also trying to walk the walk by aiming to produce "100 per cent recycled, recyclable or bio-based plastic materials across all Matchbox cars, playsets and packaging by 2030" as part of its "Driving Toward a Better Future" roadmap.
On that basis, the Tesla Roadster, set for release next year, will be the first die-cast Matchbox car to be made from "99 per cent recycled materials" (zinc and plastic with just 1 per cent from non-recycled stainless steel) in a carbon-neutral manner.
Roberto Stanichi, global head of (toy) vehicles at Mattel, said in a statement: "Since the inception of the modern-day die-cast car nearly 70 years ago, Matchbox has been using design and innovation to connect kids with the real world around them through play.
"Matchbox is committing to using 100 per cent recycled, recyclable or bio-based plastic materials to do our part in addressing the environmental issues we face today, and empower the next generation of Matchbox fans to help steer us towards a sustainable future."
According to the BBC, other electric or hybrid vehicles based on Nissan, Toyota, and BMW models will follow the Roadster – just to remind the younglings that Tesla isn't the alpha and omega of greener motoring.
While efforts to make children more environmentally aware are to be admired, it's still a bit of a shame. All the neatest cars by Hot Wheels, a brand also owned by Mattel, with the flames on the sides and names like NERVE HAMMER and BONE SPEEDER and COUGAR ELIMINATOR, are clearly not based on vehicles with an eco-conscience.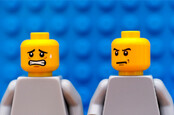 How do we stop filling the oceans with Lego? By being a BaaS-tard, toy maker suggests
READ MORE
The Register asked if Mattel will still produce "cool" cars alongside beige, overpriced hatchbacks [update: they will]. Sometimes only a monster truck or Hummer will do, you know? Speaking as a father, of course.
Other toymakers are getting introspective about their environmental footprints too. Lego is in the process of replacing single-use plastic in packaging for paper bags and is even exploring alternative materials for the bricks themselves.
Global fast-food chain and menace of the landfill McDonald's has also switched out its usual plastic Happy Meal tat with paper toys. Have you seen them? They're crap. ®