This article is more than 1 year old
Will tech show IFA really return this year as a 'full-scale' shindig? Place your bets now
Announcement light on safety details and the world still doesn't look ready
Each year nearly 250,000 people flock to the sprawling Messe Berlin for IFA, one of the world's biggest tech consumer trade shows, to peruse the stands and discuss all things laptops, phones, and... fridges.
At least they used to. Like most events, IFA has been acutely affected by the pandemic, which has disrupted international travel and resulted in the imposition of social distancing rules by governments across the world.
Although IFA organisers were not forced to cancel the 2020 edition, as was the case with the GSMA's Mobile World Congress, they did have to scale back the event massively. Instead, it ran in just four halls of the massive exhibition centre, with attendance capped at just 1,000.
But this year it is scheduled to return this year with a bang. Or maybe a cough. In a blog post, the organisers said this year's event, planned for 3-7 September, will be a "full-scale and real-life return to the exhibition halls and fairgrounds" IFA is famous for.
In a statement, Jens Heithecker, IFA's executive director, expressed confidence that the global vaccine rollout would allow business to resume as normal.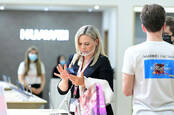 Entertainment-productivity mashups, lockdown tablets and 5G on the desktop: Tech show shakes stylus at post-COVID world
READ MORE
"As always, keeping our visitors and exhibitors safe is our top priority. The global vaccination effort is gaining huge momentum, while tough lockdowns are finally beginning to pay off – which gives us confidence that we can invite the world to come to Berlin in September for IFA 2021.
"Of course, with all our precautions to ensure everybody's good health, we don't expect IFA Berlin 2021 to set new records. However, the trend is clear: IFA Berlin is set for a full-scale comeback, to lead our industry once more."
IFA was very light on specifics when it came to the exact safety measures it would enact. There was no mention of social distancing, face coverings, or whether attendees would have to prove their vaccination status. Nor did it mention whether attendees would have to provide a negative COVID-19 test before stepping foot in the venue, or whether this would come from a fast lateral flow test, or an expensive (but accurate) PCR test.
You can't fault IFA's optimism, and it's not alone, with the GSMA similarly scheduling an in-person Mobile World Congress this year. But is running a full-scale traditional event in 2021 realistic?
The global vaccine rollout may give the organisers cause for hope, yet considering the amount of work left to be done it is still worth erring on the side of caution. The UK and US will likely have fully vaccinated their respective populations by IFA's scheduled dates, but other countries will be catching up, with nations like Finland and Italy lagging far behind. And that's without mentioning the Global South, where vaccine access is especially scarce.
Other hurdles include safety concerns regarding the Johnson & Johnson and AstraZeneca jabs, the questions over the efficacy of China's SinoVac jab, and the risk posed by the potential of vaccine-resistant variants.
Complicating matters further, Germany has found itself in the midst of a brutal third wave of the virus, with the seven-day rolling average of infections roughly what it was in December. A fresh, tough lockdown is all but certain.
Will the situation be sufficiently stable by September? Even if infections fall to a manageable level, will the authorities be willing to take the risk and relax restrictions? Again, nobody knows.
The Messe Berlin isn't exactly designed with social distancing in mind. Some halls are connected by narrow corridors that fill quickly, and don't allow for much personal space. If Ryanair did tech shows, they'd look a bit like IFA.
Ventilation is also an issue. Admittedly, the vast amounts of walking (the Messe is huge) and brutal Berlin summer heat has something to do with that. But the stale air won't help either.
As the pandemic has shown us, a lot can change in six months. IFA's hope of a return to normality by summer is encouraging, even if we're cautiously sceptical. Still, will prospective attendees share its optimism?
After the dismal tedium of the past year, will they want to go to a tech trade show to meet up with industry buddies? Or would they be more inclined to find a nice beach somewhere and catch up on all the Vitamin D they missed during lockdown?
Let us know what you think in the comments section below. ®