This article is more than 1 year old
Oh hello. Haven't heard much from you lately: Linux veteran Slackware rides again with a beta of version 15
It's time to move on from 2016
From the department of "I'm not dead yet" comes news of a Slackware 15 beta release, nearly five years after the distribution last saw a major update.
Created by Patrick Volkerding (who still lays claim to the title Benevolent Dictator For Life), the current release version arrived in the form of 2016's 14.2.
While there have been some rumblings over the years, the lengthy absence of a full new version hinted that all might not be well with one of the oldest Linux distributions and its band of contributors.
Indeed, Slackware is getting close to entering its fourth decade: it was created in 1993 and was the first Linux product distributed by community veterans SUSE. But a five-year gap is a long time in the open-source world, and users would have been forgiven for taking the extended gestation period between releases as a sign that maybe it was time to look elsewhere.
Not so. With little fanfare, the beta of version 15 turned up this week (following the debut of February's alpha.) The Linux kernel has been updated to 5.10.30 (at time of writing) with 5.11.14 available for testing. Desktop fans may be pleased to see, among the many updates, KDE Plasma hitting 5.21.4 as well as updates for old faithfuls, such as Mozilla Firefox and Thunderbird.
The beta itself dropped on 12 April (with the 5.10.29 kernel) and Volkerding noted: "I'm going to go ahead and call this a beta even though there's still no fix for the illegal instruction issue with 32-bit mariadb. But there should be soon."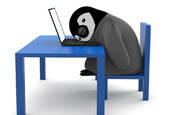 How Microsoft drove me to Linux
READ MORE
Tinkering has continued since, judging by the change log, although the beta tag brings hope there will be a release before long.
We celebrated 25 years of Slackware in 2018 and managed to get it installed despite (or because of) its "UNIX-like" design ethos. While other shiny baubles may have distracted us since, that ethos has remained in Slackware and, after a bit of fight (there are no official friendly ISO images for the beta, although an unofficial one can be found if one looks hard enough), taking the old thing out for a spin was a delight.
Enough to switch from a favoured distribution? Probably not. But more than enough to sate the faithful. ®