This article is more than 1 year old
Pentagon confirms footage of three strange craft taken by the Navy are UFOs (no, that doesn't mean they're aliens)
Unless by aliens you mean Russians
Photos and videos taken by US Navy officers of strange-shaped aircraft streaming across our skies a couple of years ago have been officially labelled as unidentified flying objects by Uncle Sam.
The first clip, filmed in night-vision, features a cone-shaped object blinking in the sky across an eerie green sky. In a second incident, pilots captured a device that rotated as it flew, and in the third image an object hovered in front, CNN reported.
Sue Gough, a spokeswoman for the Pentagon, referred to those objects as being shaped like a "sphere," or "acorn" and called the last one a "metallic blimp." All the footage was taken by the Navy, and Gough confirmed the content was being investigated by the US government's Unidentified Aerial Phenomena (UAP) Task Force, a special unit focused on probing UFOs, which is led by the Navy and was created in August.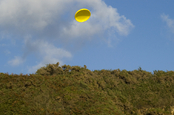 The CIA's 'entire' collection of UFO records has been made available for you to sigh at
READ MORE
"As we have said before, to maintain operations security and to avoid disclosing information that may be useful to potential adversaries, DoD does not discuss publicly the details of either the observations or the examinations of reported incursions into our training ranges or designated airspace, including those incursions initially designated as UAP," Gough told CNN.
The photos and videos of the mysterious objects were taken in 2019, and have been circulating on the internet for a while before the Dept of Defense confirmed the footage was real. They may be linked to an incident where a strange fleet of drones were spotted whizzing near Navy warships around the Channel Islands off the coast of California.
These drones were able to stay airborne for multiple nights, longer than you'd expect from a commercial off-the-shelf drone, according to The Drive, which reckons the equipment was sent from Russia to spy on the US.
Last year, the Pentagon released three clips of "unidentified aerial phenomena" flying at supersonic speeds. The strange craft appear to have no wings or rotors unlike most typical aircraft. Perhaps we'll know more about these objects when the intelligence agencies reveal unclassified reports about UFO sightings to Congress in June. ®