This article is more than 1 year old
Far-right internet haven Parler to be allowed back onto Apple's App Store with added content moderation
Social network for web outcasts can be downloaded again from next week for iThings, we're told
Parler is set to return to Apple's App Store next week after the social network agreed to moderate hate speech on its platform.
In a letter [PDF] to Congress on Monday, Apple's senior director of government affairs in the Americas, Tim Powderly, confirmed a duly updated version of Parler will be allowed into the iGiant's software souk.
The decision comes months after the self-described "free speech social network" was deplatformed by Big Tech over concerns it was used by far-right netizens to spread hate speech and whip up violence, particularly around the January 6 insurrection attempt at the US Capitol.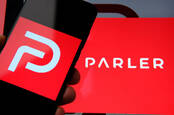 Shelter-for-internet-outcasts Parler slaps Amazon with fresh lawsuit after abandoning first attempt
READ MORE
Apple and Google booted the software out of the iOS App Store and the Android Play Store respectively. Twitter banned Parler's social media account, and Amazon Web Services refused to host its servers. Now Apple has reversed its decision after Parler promised to moderate content shared via its app.
"In the period since Apple removed the Parler app from the App Store, Apple's App Review Team has engaged in substantial conversations with Parler in an effort to bring the Parler app into compliance with the Guidelines and reinstate it in the App Store," Powderly said in the letter to Senator Mike Lee (R-AZ) and House Rep Ken Buck (R-CO).
"As a result of those conversations, Parler has proposed updates to its app and the app's content moderation practices, and the App Review Team has informed Parler as of April 14, 2021 that its proposed updated app will be approved for reinstatement to the App Store. Apple anticipates that the updated Parler app will become available immediately upon Parler releasing it."
The app will launch on Apple's App Store the week of April 26, a Parler spokesperson confirmed to El Reg. Users who downloaded the app before it was removed from the software bazaars could and still can use Parler on their devices, and they can also login via its website, too.
The social network's interim CEO, Mark Meckler, told us in a statement:
Parler has and will always be a free and open forum where users could engage in the free exchange of ideas in the full spirit of the First Amendment to the United States Constitution. We have worked to put in place systems that will better detect unlawful speech and allow users to filter content undesirable to them, while maintaining our strict prohibition against content moderation based on viewpoint.
Parler is also grateful for Senator Mike Lee's and Congressman Ken Buck's hard work and commitment to the open exchange of ideas in the free market. Their recent letter to Apple helped facilitate Parler's re-launch on the App Store and has empowered Parler's users to re-engage in the ability to freely express themselves and share ideas free of the viewpoint discrimination that they face on other platforms like Twitter and Facebook.
Finally, Parler would like to thank its users for their patience as we worked to get this done. This company was started as a non-partisan and pro-First Amendment alternative to other social media platforms, and we will continue to allow our users to freely share ideas and expression, consistent with the protections of the First Amendment and without viewpoint censorship or determination.
In a previous interview with Fox News, Parler's previous CEO, John Matze, said the app planned to use algorithms to automatically flag problematic content.
Apple said it found posts on Parler that "encouraged violence, denigrated various ethnic groups, races and religions, glorified Nazism, and called for violence against specific people." A spokesperson for Apple was not immediately available for further comment.
Android users have been able to download and install the Parler app from other sources even though it's not available in Google's Play Store, a Google spokesperson reminded The Register. (We don't recommend people install apps from outside the Play Store, for what it's worth.)
Crucially, it sounds as though the app is not making a comeback on Google's official store for now. "Parler has remained available on Android because of the openness of the platform even if it isn't currently distributed through Google Play," the spokesperson told us. "As we stated back in January, Parler is welcome back in the Play store once it submits an app that complies with our policies."
Meanwhile, Parler is embroiled in a lawsuit against Amazon. The app maker headquartered in Nevada sued the cloud giant, claiming Amazon breached its contract when it dropped its hosting services without warning. Parler previously claimed, without basis, that Amazon and Twitter – the latter a rival of Parler – conspired to boot the social network off the internet.
"Apple made an independent decision to remove Parler for non-compliance with the Guidelines, and it did not coordinate or otherwise consult with Google or Amazon with respect to that decision. Apple stands by that decision," the Apple exec's letter concluded. ®