IBM's cloud services echo its Q1 financial results: They're both down
Strategic imperative Cloud & Cognitive Solutions grows 0.8%, good old hardware spares execs' blushes
---
As a metaphor for its current financial plight, IBM's cloud platform was wobbling this moring for customers in cities across the world.
Big Blue, which last night released shrinking calendar Q1 numbers, confirmed to customers that its Infrastructure Management Systems were experiencing issues in the London, Dallas, Sydney and Frankfurt regions today from 8.20 UTC.
"Customers are not able to manage tags and they may observe inaccurate search results for classic infrastructure resources," said IBM in an email to customers, seen by us. The incident is being investigated and was designated a severity rating of 2.
Further, IBM told customers that from 8.25 UTC it had also spotted Identity and Access Management woes in Washington DC, as well as the four aforementioned cities.
"Users with classic infrastructure linked accounts may experience issues with accessing the UI and related resources," IBM said in another email. It confirmed this as a severity rating 1, the worst it could be.
And because three is a magic number, IBM confirmed it was probing its "Cloud Console", which was also "seeing issues".
"Users might not be able to access Classic Infrastructure UI and features," said IBM.
The timing is impeccable. Last night IBM outlined first quarter financials for fiscal 2021 ended 31 March, with total revenues down 1 per cent year-on-year as reported to $17.7bn.
Faced with a gaggle of financial analysts, chairman and CEO Arvind Krishna chose to seek out the positives. He reminded them that clients are still wanting to "accelerate their digital transformations', that the "overall spend environment is improving", and its cloud biz is on an "improved trajectory."
In Q1, the Cloud & Cognitive Software (cloud and data platforms, cognitive applications and transaction processing platforms) unit grew at just 0.8 per cent to $5.4bn. It would have been up by 3.8 per cent were it not for unfavourable for-ex conversions. Still, this is hardly the stellar double-digit cloud growth being seen at AWS, Microsoft or Google.
Cloud was up 34 per cent, Cognitive grew 2 per cent and Transaction Processing Platforms was down 15 per cent, said the company.
IBM said it has 3,000 hybrid cloud platform clients and had tripled the revenue based of OpenShift since it bought Red Hat for $34bn. Red Hat grew 17 per cent, it said, but didn't give an absolute turnover number.
Consulting arm Global Business Services reported revenue of $4.2bn, down 1.4 per cent. This is an area of IBM that provides professional services, including to help guide clients on moving to the cloud. Cloud revenue was up by almost 30 per cent but again no specific figure was provided and Application Management fell.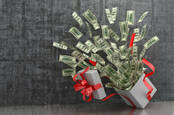 IBM's CEO and outgoing exec chairman take home $38m in total for 2020 despite revenue shrinking by billions
READ MORE
Global Technology Services, the troublesome area that IBM is spinning away this year was down 5.3 per cent to $6.4bn. The division will become a separately traded entity before the close of 2021, and was last week named as Kyndryl. This part of IBM has been decimated by customers moving to the cloud and requiring fewer outsource infrastructure services.
IBM is trying to slash the costs for GTS, something it has done annually for the past seven years, to counter shrinking revenues.
The Systems unit reported growth of 4.3 per cent to $1.4bn, led by IBM Z, which was itself up 49 per cent. The Power and Storage systems declined. So hardware came to the group's rescue once again.
Global Financing was down 20 per cent to $240m.
Operating profit came in at $955m versus $1.175bn a year earlier. ®