Watch this: Ingenuity – Earth's first aircraft to fly on another planet – take off on Mars
History in the making for the tiny open-source-powered whizzing chopper
---
Video Ingenuity has successfully performed a solar-powered autonomous flight on Mars, NASA confirmed on Monday.
The dual-bladed helicopter took off from the Jezero Crater at 0734 UTC, marking the first time in history an Earth-built aircraft has flown in skies away from Sol d. NASA has now named the patch of Martian surface that Ingenuity hovered over as the Wright Brothers Field, after human flight pioneers Orville and Wilbur Wright.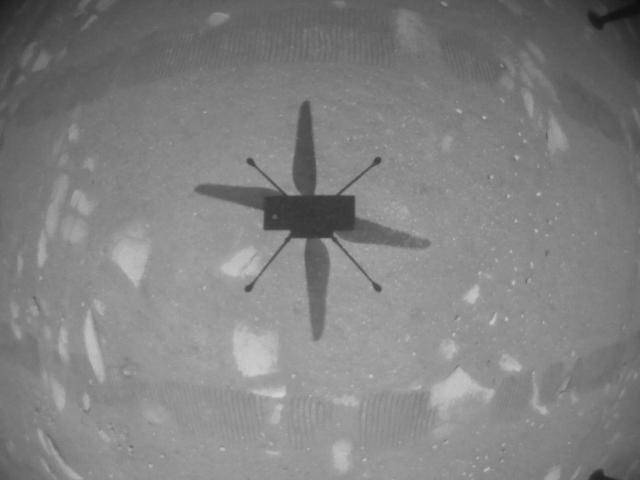 Helicopter captures it's own shadow. Source: NASA/JPL-Caltech. Click to enlarge
"Now, 117 years after the Wright brothers succeeded in making the first flight on our planet, NASA's Ingenuity helicopter has succeeded in performing this amazing feat on another world," Thomas Zurbuchen, NASA's Associate Administrator for Science, said in a statement.
"While these two iconic moments in aviation history may be separated by time and 173 million miles of space, they now will forever be linked. As an homage to the two innovative bicycle makers from Dayton, this first of many airfields on other worlds will now be known as Wright Brothers Field, in recognition of the ingenuity and innovation that continue to propel exploration."
Video footage captured by the Navcam instrument on the nearby Perseverance rover shows the mini-helicopter taking off, hovering, and landing back in the same spot. You can watch it below:
Ingenuity reached a height of three metres, hovered for five seconds, made a 96-degree turn, and hovered again for 20 seconds before returning gently to the Martian ground. All in all, the flight lasted just 39 seconds.
"The flight was all about proving that it was possible to fly on another planet," Håvard Grip, the chief pilot on the Ingenuity Mars Helicopter team at JPL, said during a media briefing on Monday. "[The video] is proof that we really did leave the ground, and fly."
Here's a screenshot of its altimeter data, too.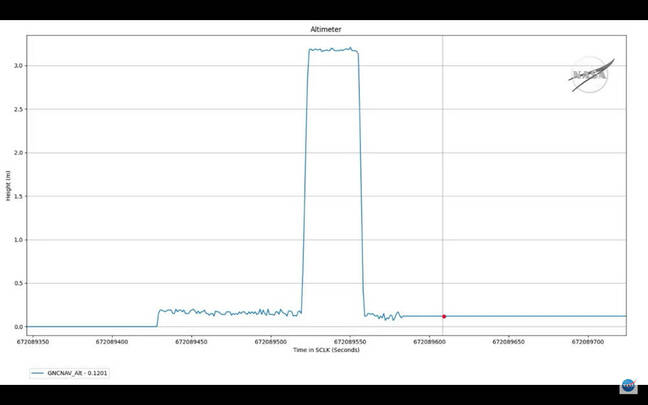 Short hover, shoot up and down, and a safe landing. Source: NASA. Click to enlarge
This all may not sound so impressive, though Mars is a harsh environment to fly in, Mimi Aung, the project manager on JPL's Ingenuity Mars Helicopter mission said: "When things work, it looks easy."
The Red Planet has a thin atmosphere that's almost a hundred times less dense than Earth. It's difficult to generate the lift needed to get aircraft off the ground. "Ingenuity has to be really light and small to survive on its own," she added.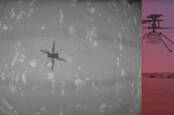 On a dusty red planet almost 290 million km away... NASA's Ingenuity Mars Helicopter flies
READ MORE
The device weighs just 1.8 kilograms and is equipped with solar panels, a computer to process instructions sent from Perseverance, navigation sensors, and two cameras. It was built using an off-the-shelf Snapdragon 801 chipset and runs open-source software, Tim Canham, a senior software engineer at NASA's JPL lab, previously explained to El Reg.
"[Ingenuity] is even healthier than she was before this flight," Bob Balaram, Ingenuity Mars Helicopter chief engineer at JPL, said. "She shook off some of her dust, and she's producing more solar energy than before." NASA also had to update the device's software and delayed the test flight for days.
Ingenuity is pretty much an experiment. The team has a month to play with the rotorcraft, and wants to perform another four test flights over the next two weeks before it pushes Ingenuity to its limits.
"We're going further, going higher, going faster," Grip said. He wanted to push the craft to fly ten metres, but Aung was more optimistic and said she wanted to see if it go as far as 700 metres. They also want to record audio clips of what it sounds like to fly on Mars.
Steve Jurcyzk, acting administrator of NASA, called the autonomous flight a "Wright brothers moment," and said Ingenuity opens up new capabilities for humans to explore other planets.
The goal is to scale up Ingenuity. Balaram said early design work has started for the next-generation of interplanetary aircraft that can take payloads of up to 30 kilograms.
"The packaging of blades becomes awkward for anything heavier," he said. NASA also has loftier goals of launching a drone named Dragonfly roughly a billion miles away from Earth on Saturn's moon, Titan, in 2026. ®