This article is more than 1 year old
Japan accuses Chinese military of cyber-attacks on its space agency
200 other companies also targeted, but no data lost
Japan has accused a member of the Chinese Communist Party of conducting cyber-attacks on its space agency and 200 other local entities.
Tokyo's Metropolitan Police yesterday said they've filed a case against a Chinese national who they said works for a state-owned telco and, while living in Japan, rented servers to attack the Japan Aerospace Exploration Agency (JAXA) in 2016. The individual, and another Chinese national believed to have visited Japan as an exchange student, are thought to have conducted up to 200 more attacks on Japanese companies over the following two years.
Chief Cabinet Secretary Katsunobu Kato restated those claims in his Tuesday afternoon press briefing, and said the alleged attacker worked for Unit 61419 of China's People's Liberation Army, an outfit sometimes referred to as "Tick" and suspected of focusing on offensive cyber-ops.
Kato said the two attackers are likely to have acted in concert and may have attacked up to 200 Japanese aerospace and research organisations.
Kato said no data was lost by JAXA, and that other targeted entities have been warned of the potential risks.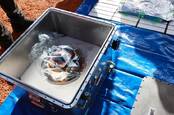 Japan sticks the landing: Asteroid sample recovered from Hayabusa2 probe
READ MORE
Japan has learned from the attacks and they will inform future countermeasures, the minister said. Japan's government is also involved in responses, he added.
JAXA admitted to being attacked in 2016. Other entities involved in this incident have not been identified.
China's foreign ministry first said it was not aware of Japan's allegations, then reportedly later accused Japan of "throwing mud" at China and suggested that's not appropriate behavior. ®