This article is more than 1 year old
Lego's Space Shuttle Discovery: No trouble with Hubble, but the stickers will drive a grown man to insanity
The Reg once again shoves its talons into bags of spiky bricks for latest website-breaking set
Despite scratched silver blocks and a woeful VIP programme, The Register has built Lego's new Space Shuttle Discovery - and we never want to see another silver sticker again.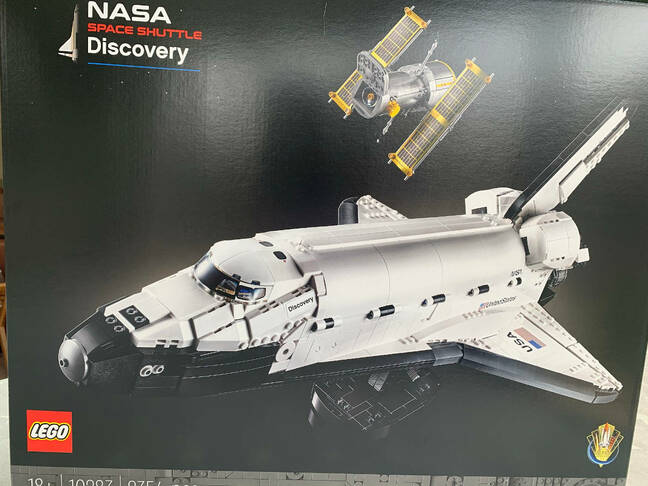 Click to enlarge
There was a certain inevitability regarding the Lego Space Shuttle set. The plastic brick behemoth had already unleashed sets including a colossal Saturn V and minifig-sized Apollo Lunar Module, as well as marked the 10th anniversary of Lego Ideas with an International Space Station set.
The latter is, for our money, the weakest of a very strong sequence to date. The Lunar Module has the greatest "playability" thanks to its relatively large scale. The Saturn V? Well, it's just a blast to build.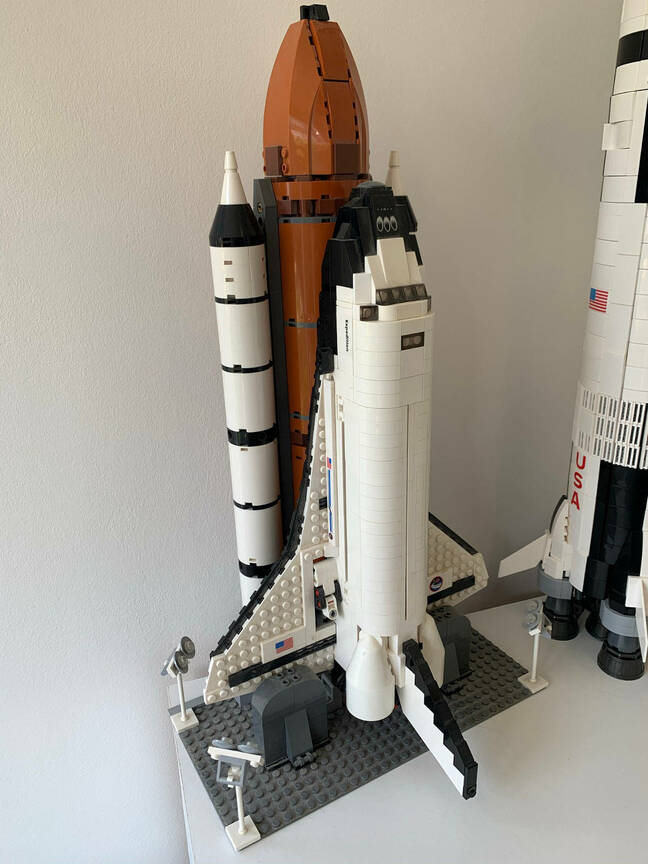 Click to enlarge
What could possibly be next?
The new build
Rumours had been circulating that a Lego Space Shuttle was inbound to coincide with the 40th anniversary of Columbia's first launch. Considering the fate of Columbia, we reckon Lego made the right, and least controversial, choice by celebrating one of the most iconic post-Challenger missions; the Hubble deployment of 1990's STS-31.
Lego has made Space Shuttles before. We built 2011's Space Shuttle "Expedition" a decade ago which, while hugely entertaining, was not to scale even if a minifig could be crammed into the cockpit.
2021's Discovery is far more accurate and, while considerably larger than its 10-year-old sibling, certainly won't be squeezing any full-sized minifigs on the impressively modelled flight deck.
It also lacks the solid rocket boosters and external tank of Expedition, but more than makes up for it with a Hubble Space Telescope model and some very nifty stands.
So what's the 54cm-long, 2,354-piece model like to build?
The answer is... pretty straightforward (although - again - we never, ever want to see another silver sticker).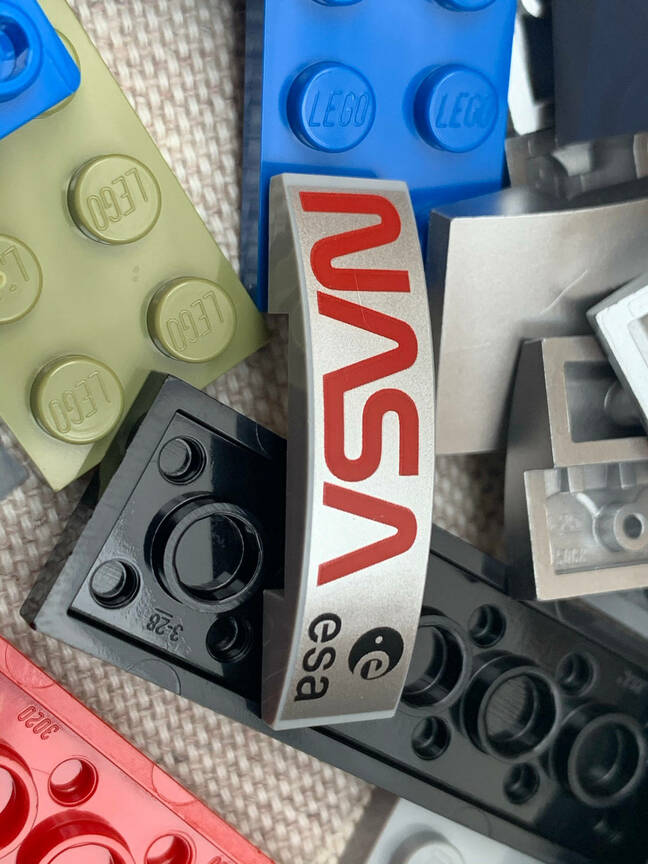 Hubble parts (click to enlarge)
Released on 1 April, the £169.99 set starts with the Hubble Space Telescope, which has some silver bricks. Those same bricks have got the enthusiast community all aquiver with possibilities, but we were a bit miffed to find many of ours scratched, perhaps indicating some manufacturing challenges.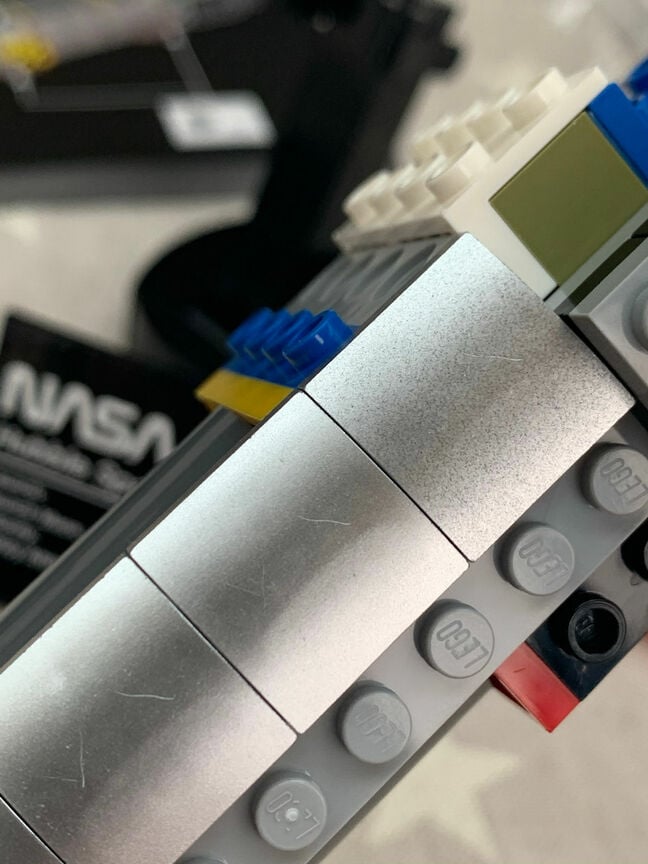 Scratched silver bricks for the Hubble (click to enlarge)
The Register asked Lego to comment, and will update should the company respond.
Still, niggles aside, the Hubble was a rapid build and done (replete with removable instrument compartment) in a few hours. There are, of course, some glaring technical issues with it, but we were pleased to note a passable recreation of the original solar panels (which famously warped over the years and were eventually replaced) and those silver bricks (the scratches on which we didn't really notice once completed) rather than a bland grey.
Also, while the set is slapped with an "18+" age, a nine year-old had no problems following the instructions and assembling the bricks. As with Lego's other sets in this series, this once again provided a useful educational opportunity to talk about the Space Telescope, its discoveries and the missions to service it.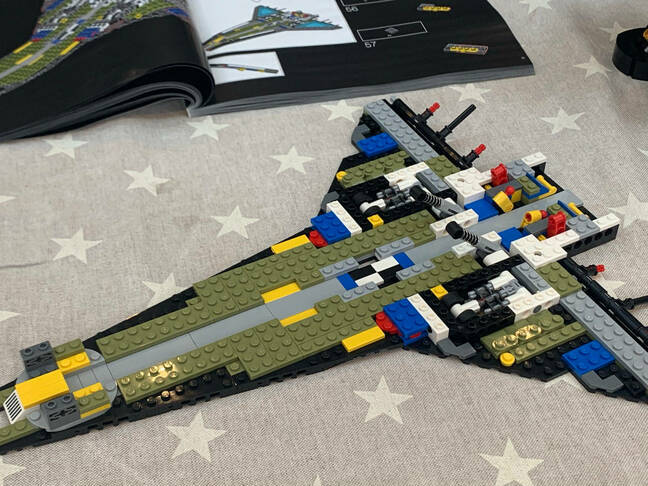 Assembly of the Shuttle base
The same applied to Discovery itself, and we were delighted to note some olive-green bricks lurking under the white exterior; a reference (we hope) to the construction of the orbiters themselves. The orbiter build was a considerably lengthier affair, with more than a dozen plastic bags to be torn into and hours required to build up the spacecraft.
Neat touches included the use of the flap beneath the engine bells to pop out the landing gear and the speed brake on the slightly awkward tail. The top-centre engine bell can also be used to move the ailerons on the wings (although you'll have to make your own whooshing noises).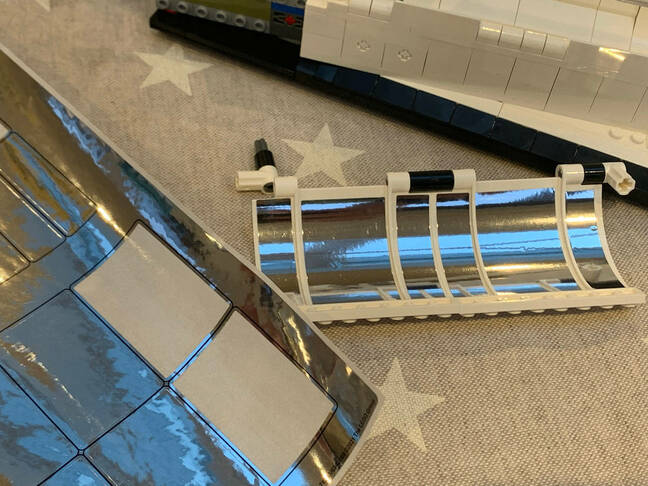 Above and below: The stickered innards of Discovery... (click to enlarge)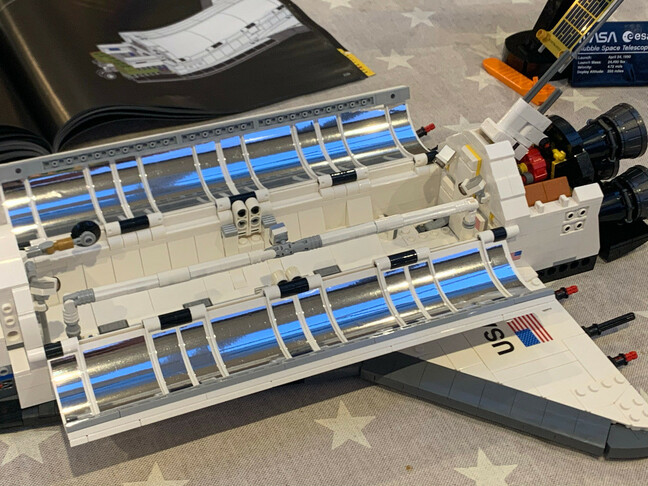 Not so neat were the stickers. The Space Shuttle's payload bay doors featured radiators to dump heat from the orbiter's systems while on orbit and Lego recreated those via silver stickers. The nine-year-old took a back seat for this process; attaching the silver adhesive sheets to the curved plastic required a great deal of care, the use of soapy water and some decidedly adult language.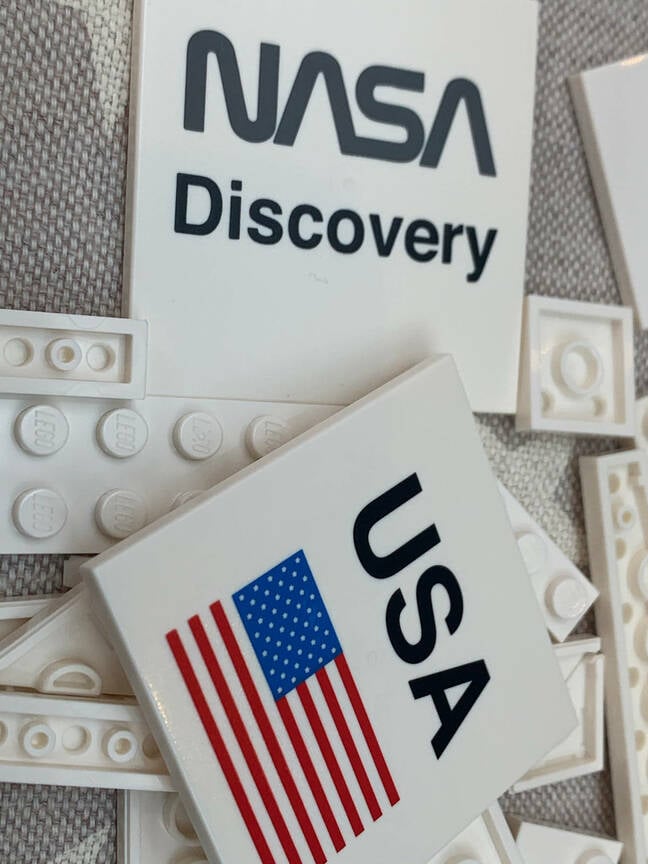 Some bricks are preprinted and some are not (click to enlarge)
More maddening was Lego's inconsistent approach to stickers elsewhere. Some bricks were pre-printed and some were not. A steady hand was required throughout.
And then there were the very odd omissions. The Shuttle's arm, for example, lacked any mention of Canada, which was a shame since Lego gave the European Space Agency (ESA) its due on the Hubble. Other details, such as Discovery's black cockpit window "teardrop", are also missing. But these are minor quibbles, and will doubtless be addressed by the very active modding community before long. Along with the missing boosters, external tank and launch tower… that £169.99 outlay is only the start if one wants to get serious.
As if to further mimic the STS-31 mission, which suffered a launch scrub due to APU problems, the Lego version's launch was beset by difficulty as the sheer volume of eager visitors caused the website to topple.
One perk for the company's loyal fanbase was to be a brick version of another of NASA and ESA's joint ventures: the Ulysses probe (which flew in 1990 on the STS-41 mission aboard Discovery). Ulysses' heliophysics mission would end up lasting nearly 20 years. About as long as it felt like the Lego site was taking to respond to requests by the time the bonus set was launched as part of the VIP programme.
Many fans were to be disappointed as stocks of the set appeared to vanish seemingly immediately, perhaps as a way to create a "buzz" around the set by limiting supplies, but only serving to enrage.
The subsequent appearance on auction sites of the sets, which required Lego VIP points to collect, for anywhere between £100 to £200 did nothing to smooth ruffled feathers.
We asked Lego what it was playing at. The company told us it was very sorry and gave us the following boilerplate response:
We do our best to make sure items like this one are available to as many LEGO fans as possible, and we know how disappointing it can be when you can't get the LEGO set that you want.
Listening to our fans helps us get better, so thanks for letting us know we got it wrong this time.
Small comfort to those who missed out, although we'd point out that the community has been swift to react with homebrew designs requiring a relatively low investment in bricks. We anticipate fans putting together more payload designs over the coming months and years.
VIP woes aside, this is an excellent set for those with deep enough pockets to afford it. It is a leap ahead of Lego's previous efforts and a considerable improvement over the last time Lego attempted STS-31 in brick form, back in 2003.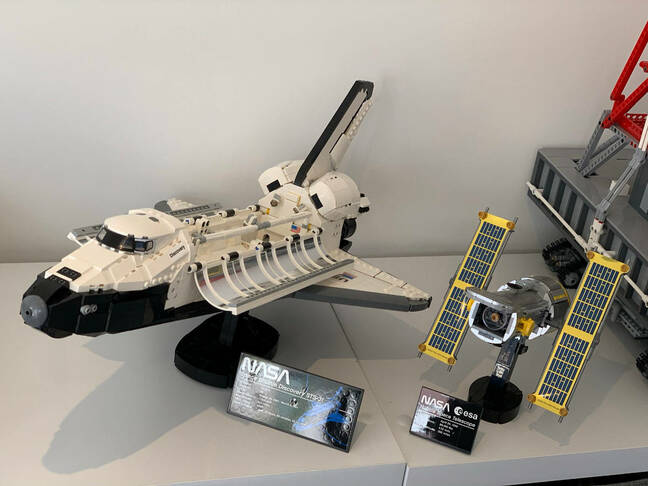 Click to enlarge
If you fancy celebrating the 31st anniversary of the STS-31 launch via Lego this week then you're unlikely to be disappointed by this set. Coupled with the informative accompanying book of instructions, Lego has once again blended space nerdery with plastic bricks and come up with a winner.
The only question is, having made it, does one display it with the Hubble in or out of the payload bay? Or, if the nine year-old gets her way, dismantled and repurposed as an orbiting pet store. ®