This article is more than 1 year old
Toshiba rejects private equity buyout offer on grounds it was scarcely credible
Tells CVC and other would-be buyers to get serious and read Japanese regulations, or go home
Japanese megacorp Toshiba has rebuffed an acquisition attempt by private equity outfit CVC.
A notice [PDF] for shareholders said the buyout offer "was not, objectively viewed, a bona-fide and feasible acquisition proposal" under Japanese regulations and that Toshiba therefore sent CVC a "please explain" letter to seek more information.
Toshiba says CVC's reply "contained no specific and detailed information capable of detailed evaluation." So Toshiba didn't evaluate it and dismissed CVC's criticism that "our shareholder structure has adversely affected our corporate value."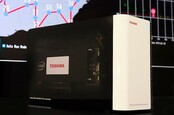 Toshiba brings quantum-inspired computer out of the cloud and onto the desktop
READ MORE
Indeed, Toshiba's board affirmed its belief that being listed offers it the best structure to enhance value. But the board also said it "will not disregard" proposals to privatise the company, "if they are credible and offer proper levels of detail."
CVC's proposal did achieve one major change: Toshiba president and CEO Nobuaki Kurumatani stood down, and company chair and Satoshi Tsunakawa returned as president and CEO. That change was well received as Kurumatani was felt to have done a good job restructuring the company, but not to be the best leader for Toshiba's next phase. Kurumatani has also worked for CVC in the past, making his leadership a little icky during an attempted buyout.
Whatever happens next, Toshiba will hope for some clear air. The company's reputation was dented by an accounting scandal in 2015. Losses in its nuclear power subsidiary brought on another scandal, a round of executive resignations in 2017, and the company offloaded its memory business to raise cash. But the latter move hasn't worked out brilliantly as a planned IPO recently stalled. ®