Adobe shareholders sign off on exec raises, with CEO Shantanu Narayen winning a plush $7m pay rise
Once again, the cloud makes it rain
---
Adobe shareholders have approved an executive compensation package that handed CEO Shantanu Narayen a $7m pay bump during fiscal 2020, according to SEC documents.
The non-binding (and retrospective) vote was necessitated by the 2010 Dodd-Frank Act, which reformed financial regulation on a federal level, and required publicly traded companies to permit shareholders to periodically vote on executive compensation levels.
In total, Narayen earned $45.9m in 2020, up from $39.1m the previous year. Although the exec's base pay remained unchanged at $1m, he nonetheless enjoyed significant bumps on the amount of stock awarded as well as in performance-based cash bonuses.
Other perks of the job, including use of the company's Gulfstream G550 jet for personal use and an executive health concierge service, were valued at $213k, up from $170k the previous year.
According to the company's statement, Narayen's compensation was 281 times that of the median employee, at $153,916.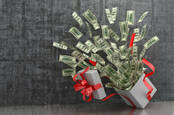 IBM's CEO and outgoing exec chairman take home $38m in total for 2020 despite revenue shrinking by billions
READ MORE
Other execs enjoying a pay hike included CFO John Murphy, who saw his total package swell to $9.9m from $7.5m; Creative Cloud EVP and chief product officer Scott Belsky, who made $9.8m, up from $7.4m the previous year; and Document Cloud EVP and CTO Abhay Parasnis, who was given a cool $9.9m up from $7.4m.
In each case, the vast bulk of the payouts came from performance-measured equity awards and cash bonuses. Adobe noted that 97.2 per cent of the CEO's payout is contingent on the company's performance, with 91.5 per cent for other executive officers.
Adobe reported a bumper FY2020 ended 27 November, with revenue growing 15 per cent year-on-year to $12.87bn on the back of growing demand for its Document Cloud and Creative Cloud business units. These earned $7.7bn and $1.5bn respectively. It banked $5.2bn in profit versus $2.95bn in the prior year. ®