This article is more than 1 year old
In 2020, VMware said its remote work kit was brilliant. Now it says you need its new stuff to do it right
Improves integration and maturity, not quite the new-buzzword-worthy step-change Virtzilla wants
Throughout 2020, VMware told anyone who would listen that its end-user compute products enabled work from anywhere, on any device, with marvellous security, and were therefore just the thing to keep your organisation operating safely during lockdowns and whatever came next.
But now the virtualization giant wants you to buy more services to achieve the same outcome, with more sophistication.
Which seems odd because in March last year, VMware shared stories of customers who felt that the company's Workspace ONE application publishing suite let their employees work from anywhere in a zero-trust environment.
Then in August came news that "a remote-everything, work-from-anywhere environment is now the new normal," and that Workspace ONE and Horizon virtual desktops were delivering for customers.
What's changed?
VMware has built a Secure Access Service Edge (SASE) product, for one.
The SASE market is hot right now, Cisco and Citrix already have offerings, VMware promised to create one at VMworld 2020, and has now assembled a SASE from existing products that could have delivered SASE-like services previously had you stitched them together just right.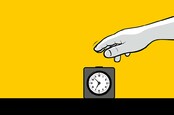 Working from home is the future, yet VMware just extended vSphere 6.5 support for a year because remote upgrades are too hard
READ MORE
VMware also feels that 2021's remote work environment is different to 2020s. Despite its 2020 press releases saying things like VMware products "enable our employees to work from anywhere there is an internet connection," apparently workers now work in even more varied locations, and do so more often, necessitating a more robust approach.
VMware therefore thinks you needs its new SASE, on top of the Workspace ONE, Horizon, and Carbon Black security products it lauded last year, to really get remote work infrastructure right.
Only this new combo, The Register was told, delivers the secure zero-trust environment that can cope with the new work-from-all-over-the-place reality in which we find ourselves (just don't read those old press releases too deeply, OK?)
VMware has also decided that the products of which it was so proud in 2020 actually had issues.
Renu Upadhyay, VMware's product and technical marketing veep for end-user computing, told The Register that before VMware's SASE came along its customers had to endure the horror of "hair pinning" as remote users' traffic passed from the client, over a VPN and into a data center, then back out again to reach cloud services. SASE fixes that by applying network policy in the cloud.
Without SASE, she added, Workspace ONE administrators lacked network intelligence that would let them understand the user experience, or make more informed decisions about security. And some of VMware's best security bits, like remote browser isolation, behave much better once SASE is in place.
VMware's new offerings also improve integration between Carbon Black and Workspace ONE, which means better malware detection and deletion. They also bring better automation, and VMware thinks admins will appreciate that as remote working infrastructure is used by more people, more often.
You will be able to buy this all as a bundle. But Andrew Fox, Virtzilla's director of business mobility and end-user computing for Australia and New Zealand, told The Register he expects many VMware customers will see SASE as a useful incremental addition and work it in to their existing rigs.
Once they do, they won't just have secure and more elegant remote access to apps and data. They'll have what VMware is now calling an "Anywhere Workspace."
Which is really the same thing that VMware said it sold last year, but in 2020 it didn't have a fancy name and wasn't as well integrated. ®