This article is more than 1 year old
Microsoft loves Linux – as in, it loves Linux users running Linux desktop apps on Windows PCs
Come inside, penguinistas, install that WSL GUI preview, yes, open source is totally winning here
Video Microsoft this week released a preview version of Windows Subsystem for Linux GUI, or WSLg, which provides a way to run Linux applications with graphic interfaces on Windows devices.
Foretold last year at the software titan's virtual Build 2020 conference, WSLg takes the previously released WSL 2 beyond Linux command line tools and apps and makes it the foundation of a functional Windows/Linux desktop chimera.
"You can use this feature to run any GUI application that might only exist in Linux, or to run your own applications or testing in a Linux environment," explained Craig Loewen, program manager for the Windows Developer Platform at Microsoft, in a blog post.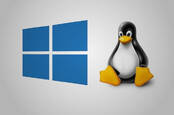 More Linux love for Windows Insiders with a kernel update
READ MORE
Loewen highlights the utility of WSLg by noting that it will let developers test their cross-platform apps in both Windows 10 and Linux without switching hardware or managing virtual machines.
By offering a hybrid development environment, Microsoft may encourage Linux developers to see its software and hardware as tools of the trade. At the very least, it presents an alternative to WINE, which runs Windows software on Linux and other Unix-like operating systems.
Loewen also points to WSLg's built-in audio and microphone support, which allows, for example, the Linux version of Audacity to record and playback sound on a Windows machine. What's more, WSLg offers support for GPU accelerated 3D graphics, via OpenGL, and the convenience of being able to launch Linux apps from the Windows Start menu should not be overlooked.
All this works without having to fire up X11 forwarding and an X11 server because WSLg launches a companion Linux system distro, Microsoft's CBL-Mariner, with Wayland, X server, pulse audio server, and other components necessary for connecting Linux GUI apps to Windows.
WSL 2 is not without issues that still need to be resolved. For example, it may consume half your memory or more, a tendency that last year prompted Loewen to recommend that users explicitly set their preferred value in the .wslconfig file. But that's to be expected from preview software.
Those looking to try out WSLg should download the Windows 10 Insider build 21364 via the Dev Channel. GPU compute support is advised and the GitHub repo contains more detailed instructions. ®